Onyx BOOX Max3 Set With Free Accessories
The price shown after the selection of EU/UK warehouse does not contain VAT and please subject to the final price at checkout.
Order Now to Save $104.96
Order BOOX Max3, SAVE $104.96 for accessories including 1 protective case, 5 stylus tips, 1 screen protectors and 1 remoter!
*The remoter giveaway will only be included in the packages shipped from the China warehouse.
White Max3  will not be replenished after sold-out.
Differences between the stylus for white Max 3 and the black Max3. 
The white stylus fits for bigger palm with a diameter of 10.2mm.

T

he black stylus is slightly thinner with a diameter of 8.0mm.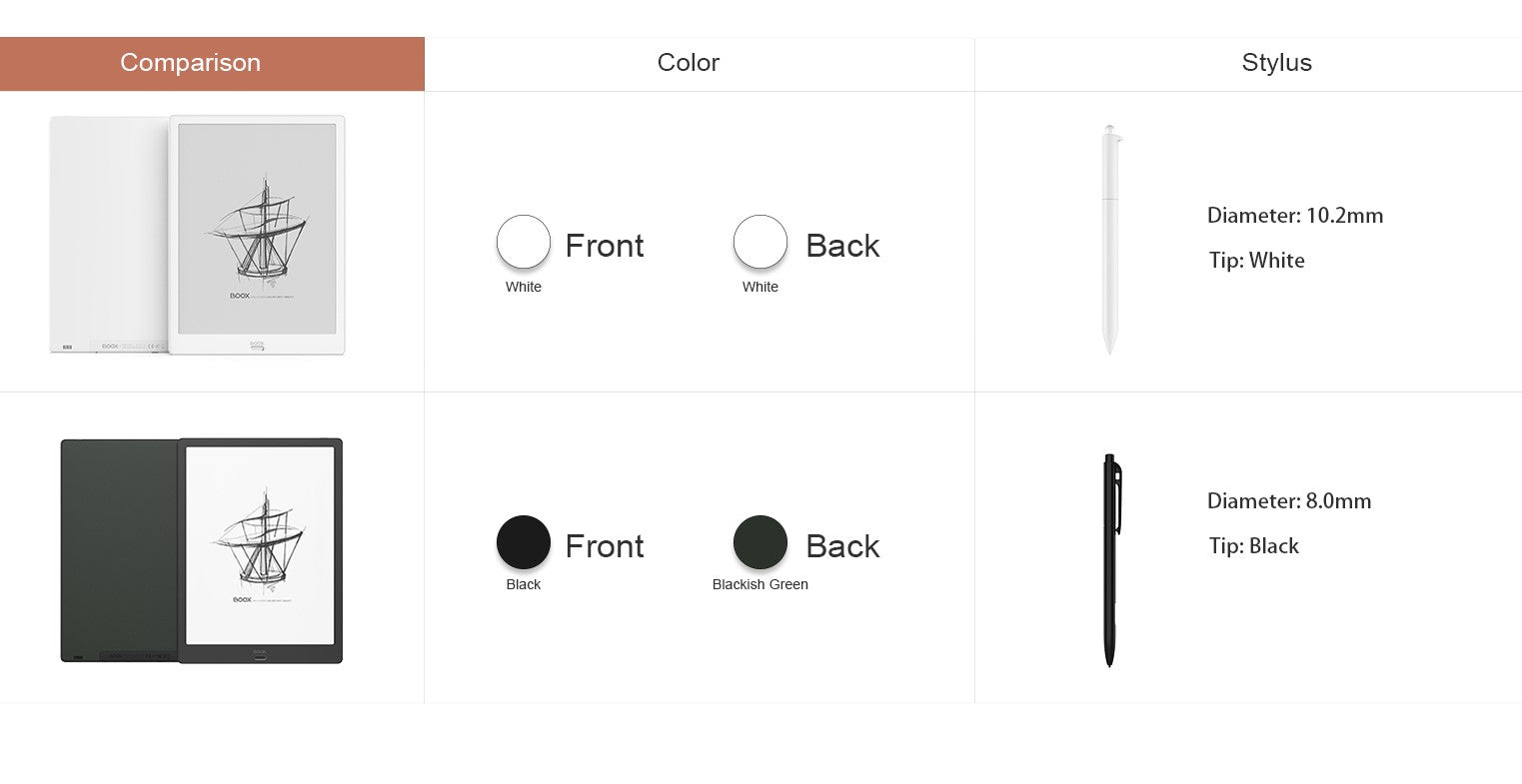 Why Choose Max3
Powerful CPU: Octa-core 2GHz Processor offers high speed and top-rated performance with energy-efficient computing.
Android 9.0 OS: Raise possibilities of substantial improvement on software features, including app compatibility, brand new UI, display rotation, and more refresh modes.
Tablet Screen Size: Retain 13.3" high-resolution flexible E Ink display, a perfect fit for PDF document reading, and also a great size for a tablet.
Fingerprint Recognition:

 

Strengthen the security of your personal information. Unlock your device in an easy way.
OTG Capacity: Mass extended storage support SD cards, even physical keyboards, and mice. Plug and Play, do not have to install any driver.
Secondary Monitor: Eye-friendly monitor features four refresh modes used for different situations.
There are some pre-installed books on the Library on Boox Max 3 and you could easily delete them. 
Included in the Box: Onyx Boox Max 3 x1, Stylus Pen x1, USB-C Cable x1, H**I Cable x1, USB-C Card Reader x1, Screen Protector x1, Quick Start Guide x1, Warranty Sheet x1

* No need to add those free accessories to the cart. Booxshop will ship them together in one package.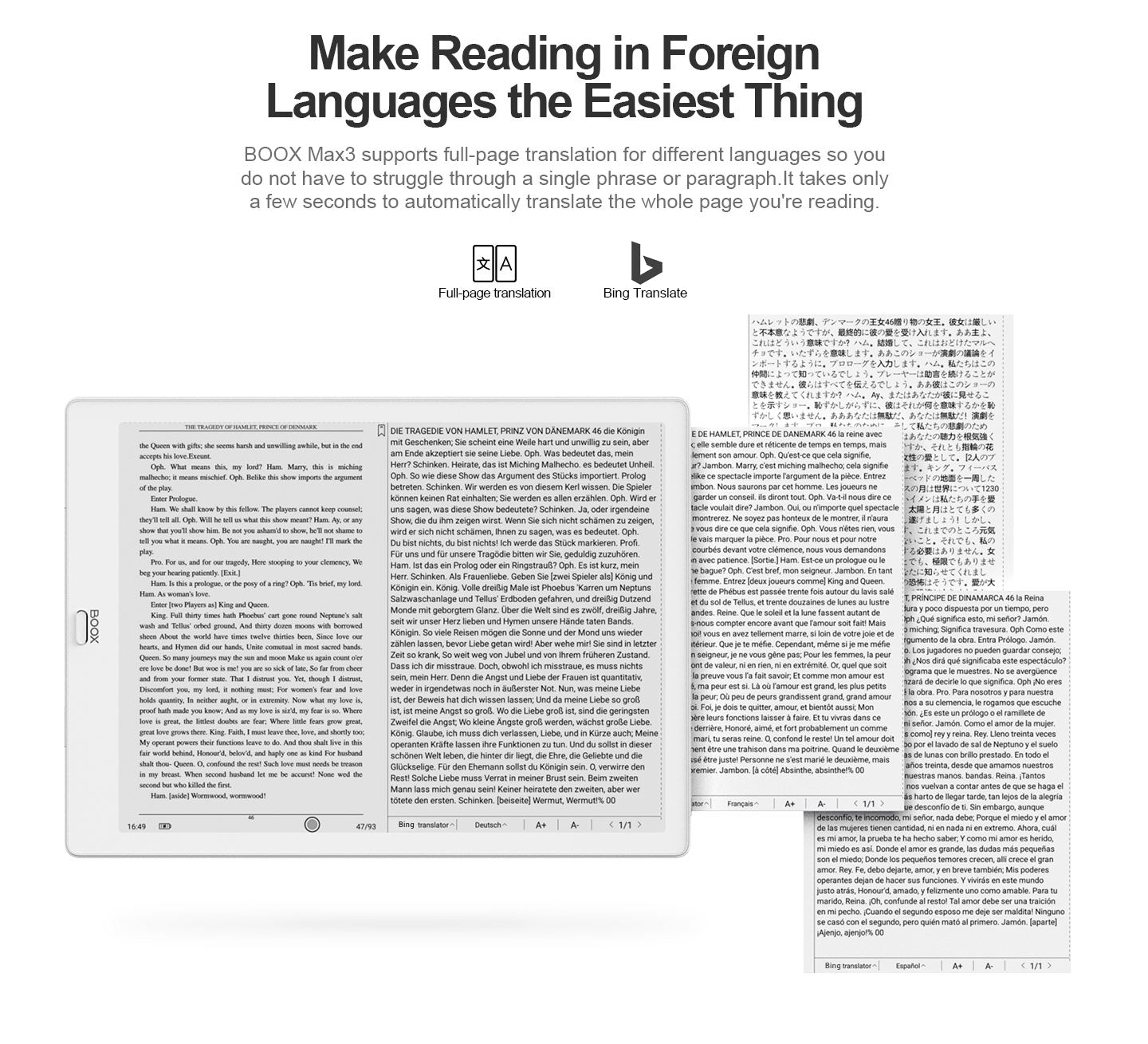 Shipping Policy
Handling time:
When receiving an order, usually it will take 1-3 business days to prepare the products prior to shipment.
Delivery schedule:
The shipping method may vary depending on your shipping address, country, and region. Once your order is ready for delivery, you will receive an email from us with the tracking ID.
The estimated shipping time: 
The estimated shipping time for normal order is 7-15 business days after delivery. And the estimated shipping time for the pre-orders will be within 30 days. For the accessory order only, it will take 7-30 business days. 
Please note that customer shall be responsible for any additional fee caused by redirect request on your side, when the product has been shipped already. 
*Please note that there will be shipping delay because of the public holidays in China or your country, such as the Christmas or New Year holiday.
The Customer acknowledges that delays to the estimated dispatch and delivery date may occur. BOOX shall not be held liable for delays to the estimated delivery in the following circumstances:
BOOX shall not be held liable for delays to the estimated delivery date provided natural disaster, strike and customs inspection occur during delivery.
The product will be delivered to the delivery address specified by the Customer in the order form. The Customer is responsible for ensuring that the correct address is registered at all times, and BOOX shall not be liable for any loss resulting from the Customer's failure to update his delivery address.
In order to avoid package change address fraud cases, Booxshop would be not allowed to modify the shipping information for customers after your order is confirmed. Therefore, If your shipping information is incorrect, please contact us via community@boox.com to cancel your order and reorder to fill out the correct one. Besides, if you contact us after the package has been sent out, the shipping information can't be modified and your order could not be canceled as well.
Delivery has occurred when the Customer, or his representative, has taken possession of the Product. The risk of the Product passes to the Customer when he or his representative has received the Product. If the Product is not collected or received on time, and if this is due to the Customer or circumstances related to the Customer, the risk passes to the Customer when the item is at his disposal and the failure to take possession of the Product constitutes a breach of contract by the Customer. BOOX reserves the right to charge the Customer for extra shipping costs due to Customer's failure to collect the Products in time.
BOOXShop Distrubition(Device only)

Warehouse
Preliminary shipping costs areas
Vantage shipping costs areas
Higer shipping costs areas
Notes
United States
United States(Besides Alaska/ Hawaii)
United States(Alaska/ Hawaii)
No imported tariffs in gerenal
UK Warehouse
British, France, Germany, Netherlands, Belgium, Czech Republic, Denmark, Luxembourg, Poland, Austria, Hungary, Lithuania, Slovakia, Slovenia, Spain 
Estonia, Latvia, Portugal, Sweden, Italy
Bulgaria, Greece, Romania, Croatia, Cyprus, Finland, Malta
No imported tariffs in general, With VAT need to pay
DE Warehouse
Germany, Belgium, Czech Republic, Denmark, France, Italy, Luxembourg, Netherlands, Poland 
Austria, Bulgaria, Estonia, Finland, Greece, Hungary, Ireland, Latvia, Portugal, Romania, Slovakia, Slovenia, Spain, Sweden, United Kingdom
Cyprus, Lithuania, Malta, Croatia
No imported tariffs in general, With VAT need to pay
China Warehouse
United States,South Korea, Taiwan, Australia,Japan, Philippines, Thailand, Canada, Vietnam, Kuwait, Brunei, New Zealand, Indonesia, Saudi Arabia, United Arab Emirates 
Armenia, Holy See (Vatican City State), Iceland, Liechtenstein, North Macedonia, Monaco, Norway, Switzerland, Bahrain 
Others
Please contact this email address community@onyx-international.com if any questions
*In general, it will be shipped by parcel post while you place an order with accessories. Please kindly check the details at the checkout. 
*Please note that the shipping costs will be superimposed when you choose more than one warehouse while placing an order.
Taxes & Duties
When purchasing international products from BOOX, the seller of those products is Onyx International, a Chinese company and you are the importer of record. As the importer of record, you shall pay import duties, taxes, and fees when the products arrive in your country/region according to the local regulations.
Learn more about Taxes https://shop.boox.com/pages/tax-customs-duties