Your 7.8'' on-the-go E Ink tablet becomes more capable and versatile.

Improved Responsiveness
The upgraded octa-core processor can power Nova3 with a 30% faster speed, offering you a snappy experience even when running two apps at the same time.

Faster Data Transfer
Ample storage of 3GB RAM + 32GB ROM adopts upgraded LPDDR4X solution for the random-access memory to double the data transfer speed.

Upgraded Compatibility
Android 10 makes Nova3 more secure, intelligent and compatible with third-party apps. You can even use gestures to switch between apps.

New Quality Speaker
Don't have Bluetooth earbuds? Never mind, the speaker built in the bottom bezel of Nova3 can offer you fluent high-quality streaming.

Optimize Your Reading Experience
High-level functionality offers you an optimal reading experience. You can use the powerful tools to highlight, bookmark, split views, taking handwritten notes on various e-content, including PPT documents.


A5-size Nova3 is a perfect on-the-go companion for reading ebooks and digital files. The classic reading menu of PDFs such as reflow, navigation, scribble retains your enjoyment of reading.

With the ENCODE feature, Nova3 is typically great for reading ebooks in any languages.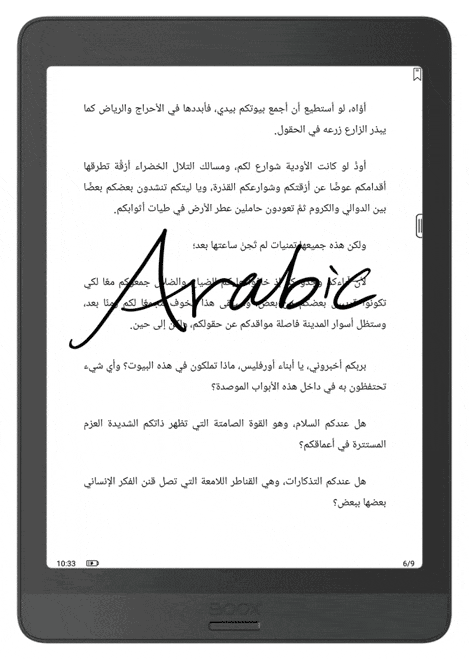 Enjoy The Superior Writing Experience
The stylus with 4096-level pressure sensitivity responds to the lightest touch. It gives you superior control to create the most artistic works.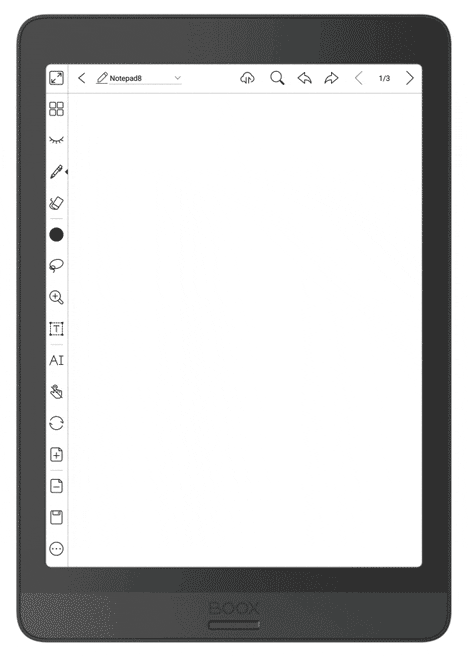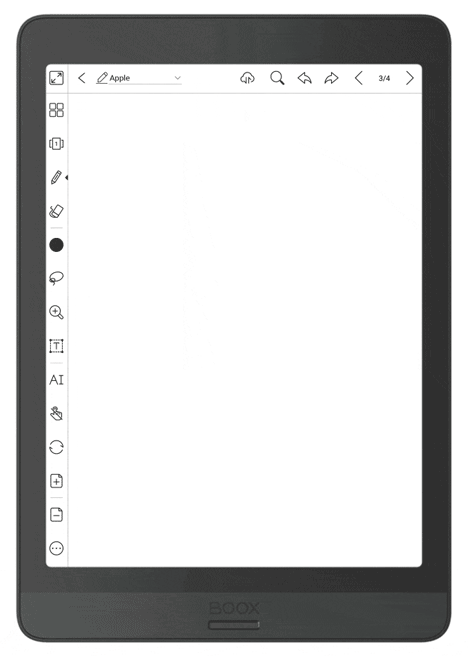 Do More with A Versatile E Ink Tablet

With the up-to-date firmware, you can run two apps simultaneously,edit pictures on the Gallery app, push web articles to the PushRead app, and improve your efficiency with more features.


USB OTG
You can connect flash drivers up to 512GB and external SSD hard drivers up to 1TB with Nova3 and transfer files, books, and notes in between.

Quick Charge 4.0
Quick Charge 4.0 is up to 20 percent faster than the 3.0 version and can prevent over-charging. It just takes a few hours to fully charge Nova3.

Bluetooth 5.0
BT 5.0 is faster and can cover further ranges. Together with WiFi 2.4GHz + 5GHz, you can enjoy a stable connection and improved data transfer speed.

Dual Touch
The stylus helps capture your great ideas and capacitive touch helps you manage everything on your Nova3 efficiently at your fingertips.
Nova3 vs. Nova2: Detailed Comparison



Parameters:7.8" HD Eink Carta Screen with AG glass flat cover-lens
Resolution:1872x1404 Carta (300 dpi)
Light:Front Light with CTM (Warm and Cold)
CPU:Upgraded Octa-core
RAM: 3GB (LPDDR4X)
Memory: 32GB (eMMC)
Touch: Wacom digitizer touch with the stylus (4096 levels pressure sensitivity) + capacitive touch
Battery: 3150mAh Polymer Li-on
WiFi (802.11b/g/n/ac) 2.4G + 5G
Bluetooth BT 5.0
Expansion Interface: USB Type-C (support OTG)
Button: power, back
Speaker: Yes
Mic: Yes
Height: 197.3 mm
Width: 137 mm
Thickness: 7.7mm
Weight: 265g
OS: Android 10.0
Documents Formats: PDF(reflowable), PPT, EPUB, TXT, DJVU, HTML, RTF, FB2, DOC, MOBI, CHM...
Image Formats: PNG, JPG, TIFF, BMP
Audio Formats: WAV, MP3
APP Store: BOOX Store
Support DRM (3 party apps)
BOOX Nova3 x1
Stylus pen x1(Round-Shaped Stylus or Triangle-Shaped Stylus)
USB-C cable x1
Screen protector x1
Quick start guide x1
Warranty card x1
Do More with A Versatile E Ink Tablet
V3.1 Firmware provides more versatile, desired tools. So you can improve productivity and do more things at once, on an E Ink tablet. And there're more surprises to be discovered.
Handling time:
When receiving an order, usually it will take 1-3 business days to prepare the products prior to shipment.
China warehouse:3-5 business days
US warehouse:1-2 business days
EU warehouse:1-2 business days
UK warehouse:1-2 business days
Delivery schedule:
The shipping method may vary depending on your shipping address, country, and region. Once your order is ready for delivery, you will receive an email from us with the tracking ID.
The estimated shipping time:
The estimated shipping time for normal order is 7-15 business days after delivery. And the estimated shipping time for the pre-orders will be within 30 days. For the accessory order only, it will take 7-30 business days.
Please note that customer shall be responsible for any additional fee caused by redirect request on your side, when the product has been shipped already.
*Please note that there will be shipping delay because of the Corona pandemic,public holidays in US/DE/CN or your country, such as the Christmas or New Year holiday.
The Customer acknowledges that delays to the estimated dispatch and delivery date may occur. BOOX shall not be held liable for delays to the estimated delivery in the following circumstances:
BOOX shall not be held liable for delays to the estimated delivery date provided natural disaster, strike and customs inspection occur during delivery.
The product will be delivered to the delivery address specified by the Customer in the order form. The Customer is responsible for ensuring that the correct address is registered at all times, and BOOX shall not be liable for any loss resulting from the Customer's failure to update his delivery address.
In order to avoid package change address fraud cases, Booxshop would be not allowed to modify the shipping information for customers after your order is confirmed. Therefore, If your shipping information is incorrect, please contact us via booxshop@boox.com to cancel your order and reorder to fill out the correct one. Besides, if you contact us after the package has been sent out, the shipping information can't be modified and your order could not be canceled as well.
Delivery has occurred when the Customer, or his representative, has taken possession of the Product. The risk of the Product passes to the Customer when he or his representative has received the Product. If the Product is not collected or received on time, and if this is due to the Customer or circumstances related to the Customer, the risk passes to the Customer when the item is at his disposal and the failure to take possession of the Product constitutes a breach of contract by the Customer. BOOX reserves the right to charge the Customer for extra shipping costs due to Customer's failure to collect the Products in time.
BOOXShop Distrubition(Device only)

Warehouse
Preliminary shipping costs areas
Vantage shipping costs areas
Higer shipping costs areas
Notes
United States
United States(Besides Alaska/ Hawaii)
United States(Alaska/ Hawaii)
No imported tariffs in gerenal
UK Warehouse
United Kingdom
No imported tariffs in general, With VAT need to pay
EU Warehouse
Germany, Belgium, Czech Republic, Denmark, France, Italy, Luxembourg, Netherlands, Poland
Austria, Bulgaria, Estonia, Finland, Greece, Hungary, Latvia, Portugal, Romania, Slovakia, Slovenia, Spain, Sweden,
Cyprus, Lithuania, Malta, Croatia
No imported tariffs in general, With VAT need to pay
China Warehouse
United States,United Kingdom,Taiwan, Australia, Japan, Philippines, Thailand, Canada, Kuwait, Brunei, New Zealand, Indonesia, Saudi Arabia, United Arab Emirates
Armenia, Holy See (Vatican City State), Iceland, Liechtenstein, North Macedonia, Monaco, Norway, Switzerland, Bahrain
Others
Please contact this email address booxshop@boox.com if any questions
*In general, it will be shipped by parcel post while you place an order with accessories. Please kindly check the details at the checkout.
*Please note that the shipping costs will be superimposed when you choose more than one warehouse while placing an order.
Taxes & Duties
When purchasing international products from BOOX, the seller of those products is Onyx International, a Chinese company and you are the importer of record. As the importer of record, you shall pay import duties, taxes, and fees when the products arrive in your country/region according to the local regulations.
Learn more about Taxes.