Colorfully versatile, elegantly sleek.
Note Air3 C
The color ePaper notebook that helps you think and create without bounds in work and life.
Order Now
Wonderful Display, Classic Design
The 4,096 amazing relaxing colors make using the device more fun. You can enjoy the content even better on the clearer screen provided by the thinner glass panel. And the wide grip makes it easy to hold the device. The Note Air 3 C with our most popular design has everything you need.
150PPI + 300PPI
The new Kaleido 3 screen¹ improves the resolution of black-and-white and color content, making every stroke stand out.
Paper-like Texture
With an exclusive film on top, writing on the Note Air3 C feels just like writing with a real pen and paper.
Master the Magic of Creating
With its various tools for arts and note-taking, the Note Air3 C is ready to replace your paper note book, save you piles of paper, and help you come up with more ideas in work and study.
Art Magic
Colorful brushes, lines and shapes, custom templates, multiple layers, and the lasso tool for easy movement - when you sketch on the Note Air3 C, the sky is the limit.
Linking Magic
Connect any point to a note, a file or a website and see that reference whenever you need it, helping you make a personal knowledge system for better motivations.
Convert-and-Share Magic
Convert your notes to text and send them to others via email or apps to see what they think about your work, and let the useful suggestions guide you to a better outcome.
Search Magic
The creative process is full of thoughts and flashes of inspiration, but it never takes long to find them in the Note Air3 C. Simply enter a keyword and the note will pop up in seconds.
Read with Delightful Energy
The color ePaper screen makes it fun to read colorful illustrations and take colorful notes on books. You can also enjoy the smoothest experience you've ever had on an ePaper tablet, thanks to the BSR (BOOX Super Refresh²) technology.
Open 17 ebook formats.
Take colorful notes on books and embed them in PDFs.
Enjoy a silky smooth reading and scrolling experience.
And there's a lot more you can do with this versatile eReader: Split the page into sections and zoom in to read comfortably, look up words in the dictionary and sentences in the website with one click, and listen to stories by turning text to speech. It's colorful and powerful.
Article mode makes reading large-sized files easy.
Quick lookup of words, phrases and sentences.
Use TTS (Text-to-speech) to save eye strains.
Scribble Your Thoughts in a Smart Way
The Note Air3 C with the latest BOOX firmware completely changes the way you take notes and read books. You can annotate books with handwritten notes and easily turn those scribbles into perfect shapes, highlights, underlines, and delete your handwriting using the Smart Scribe feature.
Shape Perfection
Highlight Recognition
Strikethrough Erase
Underline Recognition
Empowered by Upgraded Flexibility
Use two apps at once or read books while taking notes. The flexible split screen feature takes Note Air3 C to a higher level and gives you more possibilities to think, create and get things done.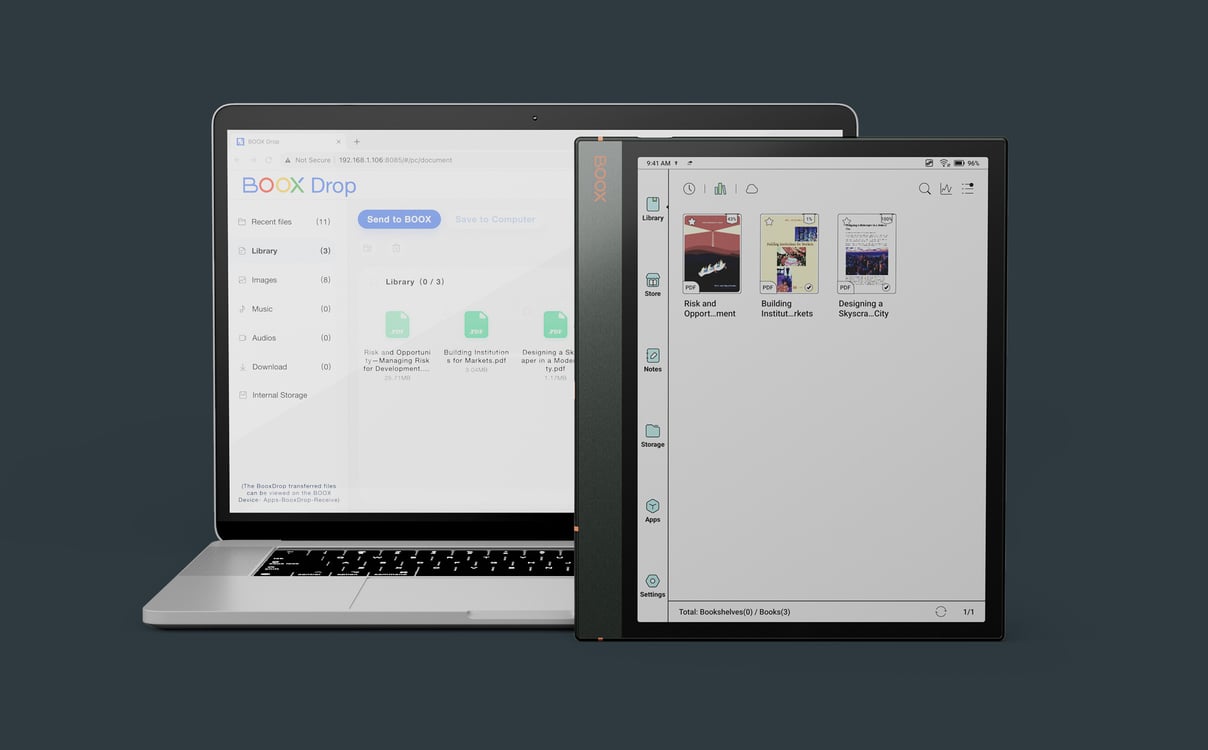 Send files from your computer and mobile device, or download files from the Note Air3 C - you can do both easily using the built-in BOOXDrop³. Enjoy limitless transfer.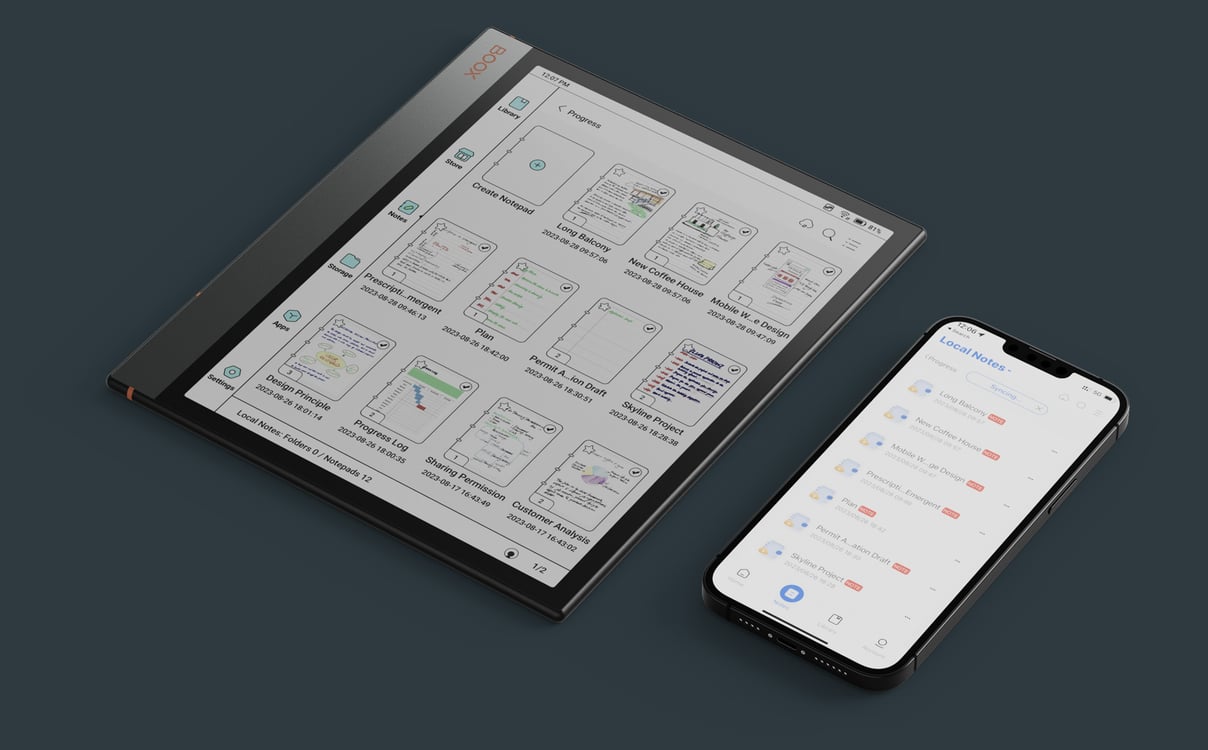 Sync your colorful notes and book annotations to the cloud⁴ so you can review them whenever and wherever you want.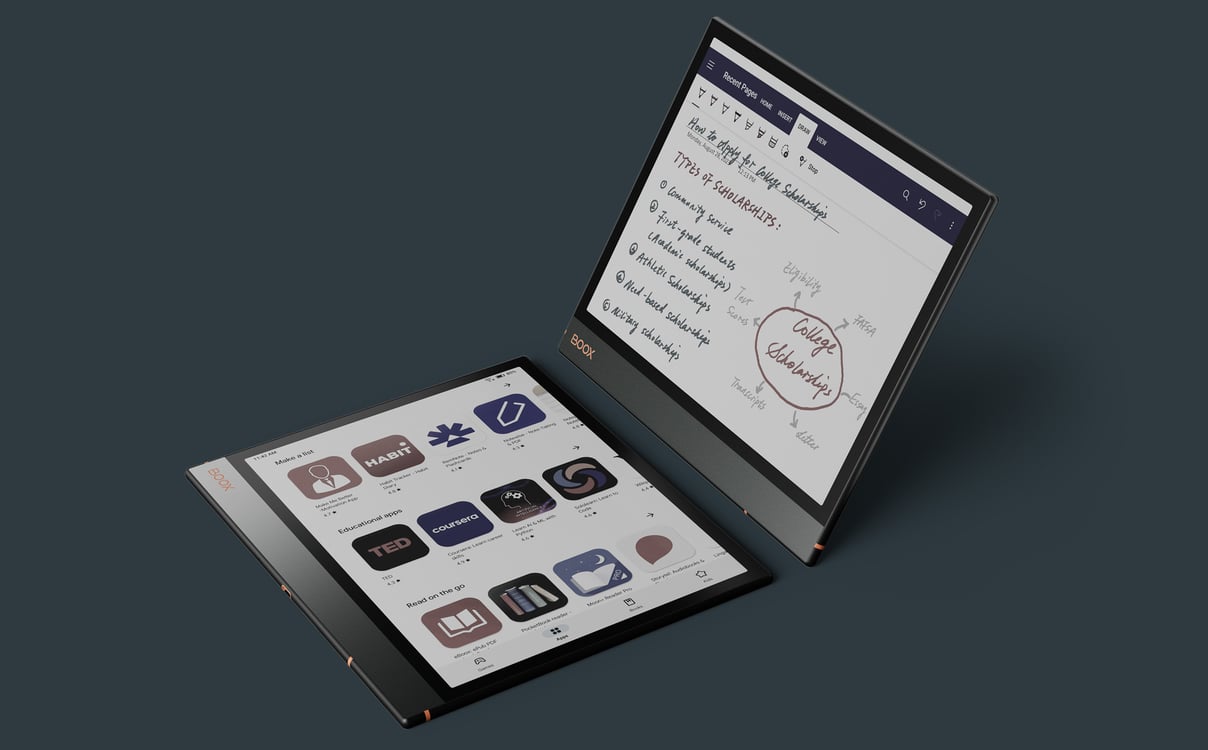 Download the colorful apps from the Google Play Store, and use OneNote, Evernote and WPS⁵ smoothly to capture your thoughts and collaborate with others.
Get Better Ideas without Restraints
Fingerprint Sensor
Unlock the device with a single tap.
Durable Battery
Take pleasure in the extended use⁶ of an eye-friendly ePaper tablet.
Adjustable Front Lights
Write, read and browse at any time.
MicroSD Card Slot
Expand the device's memory to a maximum of 2T.
Gravity Sensor
View the screen from any direction.
OTG Function
Connect a USB flash drive⁷ and read its contents immediately.
Touch up the Creating Experience
Versatile Protective Case and Pen Plus
Included in the standard bundle, the versatile protective case and the Pen Plus can make the Note Air3 C experience better. You can use the magnetic case in three ways, and attach the stylus to the device for easy carrying after finishing your work.
Check the Bundle
Made for Boundless Thinking and Creativity in Work and Life
The Only ePaper Reader and Notebook You'll Ever Need
Order Note Air3 C Now
HANDWRITING AND SKETCHING

Smart Scribe.
Colorful brushes, shapes, and lines.
Built-in and custom templates.
Layers.
Lasso.
Free handwritten notes conversion.
Text notes.
Hyperlinks to notes, files and web pages.
Content tags.
Insertion of pictures and recordings.
Quick search of notes.
Custom note cover.
Note syncing Onyx cloud and third-party cloud storage.
Note sharing through email and third-party apps.

READING

17 ebook formats compatibility⁸.
Smart Scribe.
Colorful highlights and underlines.
Colorful handwritten notes.
Embed notes into PDFs.
Split screen with another file, translation and a note.
Quick lookup of content.
Dictionary.
TTS (Text to Speech).
Annotations syncing to other BOOX devices with the same account⁹.

SYSTEM

10GB free cloud storage*.
Two-way file transfer between computer and mobile.
Google Play Store.
Custom screensaver.
Two-app split screen.
Kids mode.
Auto rotation.
Fingerprint lock.
Password lock.
Multiple system languages and language inputs.
Eye-friendly front lights.
Regular firmware updates**.
There's always a BOOX for you.
Stay Focused, Stay Inspired
Note Air2 Plus
Dedicated digital notebook
Note Air3 C
Upgraded color e-notebook and eReader
Tab Ultra C Pro
Professional color ePaper tablet PC
E Ink Tablet
E Ink Tablet
ePaper Tablet PC
Monochrome Screen
Color Screen
Color Screen
227PPI
B&W 300PPI + Color 150PPI
B&W 300PPI + Color 150PPI
2.0GHz Octa-Core CPU
2.4Ghz Octa-Core CPU
2.8Ghz Octa-Core CPU
N/A
BOOX Super Refresh Technology
BOOX Super Refresh Technology
Android 11
Android 12
Android 12
N/A
MicroSD Card Slot
MicroSD Card Slot
4GB + 64GB
4GB + 64GB
6GB + 128GB
Supports BOOX Magnetic Three-fold Protective Case
Supports BOOX Magnetic Versatile Protective Case
Supports BOOX Magnetic Keyboard Cover with Trackpad
5.8mm Thickness
5.8mm Thickness
6.6mm Thickness
Approx. 445g
Approx. 430g
Approx. 450g
* BOOX is committed to offering 10GB Onyx cloud storage for free for all new and existing users. No matter which model you've purchased, you can get free 10GB cloud storage for each Onyx account to store your notes online and keep them safe and sound.
** BOOX is committed to providing free firmware updates for all models for more than 3 years since the product launch date. So every BOOX user can get improved experiences through consistent updates.
[1] The Kaleido 3 screen is E Ink's most recent ePaper color screen. It offers a relatively high refresh rate, relaxing hues, and is ready for mass production with consistent quality. And with E Ink ComfortGaze™ on the Kaleido 3, a new front light technology, the Note Air3 C with adjustable front lights can offer a comfortable viewing experience day and night. The new screen and its front light technology may generate a tiny side shadow, which may be eliminated by adjusting the screen brightness and color temperature. If you have any queries about the new E Ink technology, you can contact our customer care at any time.
[2] BOOX Super Refresh Technology (BSR) is an exclusive innovation unveiled by BOOX in 2022 to improve the refresh performance and image quality of its ePaper products. The BSR technology with four refresh modes can make the image run smoothly or reduce ghosting.
[3] BOOXDrop is a feature built into BOOX Android devices. Users can activate the BOOXDrop and use the LAN (Local Area Network) to perform two-way transfers quickly between BOOX and computer and mobile devices.
[4] Users can sync their book annotations and notes to the Onyx cloud and view them at push.boox.com (US server,) eur.boox.com (EU server,) or BOOX Assistant in mobile.
[5] We improved the display performance of OneNote, Evernote, and WPS, allowing them to run more smoothly on our ePaper screens.
[6] The Note Air3 C can last for weeks in standby mode without any network or Bluetooth connections.
[7] The Note Air3 C's type C interface supports OTG (On the Go), allowing users to connect a USB flash drive and other peripherals to the device.
[8] The Note Air3 C is compatible with 24 digital formats, including PDF, DJVU, CBR, CBZ, EPUB, AZW3, MOBI, TXT, DOC, DOCX, FB2, CHM, RTF, HTML, ZIP, PRC, PPT, PPTX, PNG, JPG, BMP, TIFF, WAV, and MP3.
[9] The same Onyx account, the same book in the same folder, and synchronization enabled are required for book annotation syncing across different BOOX devices.
Colors appear differently on computer monitors and cell phone displays. The color of the product and its screen are subject to the actual product.
BOOX Note Air3 C
Hardware
Screen: 10.3" Kaleido 3 (4,096 colors) Carta 1200 glass screen with flat cover-lens
Resolution: B/W: 2480 x 1860 (300 ppi)
Color: 1240 x 930 (150 ppi)
Touch: BOOX stylus touch (4,096 levels of pressure sensitivity) + capacitive touch
CPU: 2.4Ghz Octa-core + BSR
RAM: 4GB (LPDDR4X)
ROM: 64GB (UFS2.2)
Connectivity: Wi-Fi (2.4GHz + 5GHz) + BT 5.0
Front Light with CTM (Warm and Cold)
G-sensor for Auto Rotation
Software
OS: Android 12
Document Formats: PDF, DJVU, CBR, CBZ, EPUB, AZW3, MOBI, TXT, DOC, DOCX, FB2, CHM, RTF, HTML, ZIP, PRC, PPT, PPTX
Image Formats: PNG, JPG, BMP, TIFF
Audio Formats: WAV, MP3
Supports 3rd-party apps
Other Specs
Button: Power Button with Fingerprint Recognition
USB-C Port (Supports OTG or use as an audio jack)
microSD Card Slot
Built-in Dual Speakers
Built-in Microphone
Battery: 3,700mAh Li-ion Polymer
Dimensions: 226 x 193 x 5.8mm (8.9" x 7.6" x 0.23")
Weight: Approx. 430g (15.2oz)
Certifications
CE
ROHS
FCC
TELEC
UKCA
WEEE
NCC
What's In The Box (Standard Bundle)
BOOX Note Air3 C x 1
BOOX Pen Plus x 1
USB-C Cable x 1
Card Tray Eject Tool x 1
Quick Start Guide x 1
Warranty Sheet x 1
*Some accessories in the video may need to be purchased separately. Please refer to the product page for specific information.