BOOX Leaf
Ultra-light. On the road.
Get bundle with a 40% off magnetic case.
Joyful Outdoors Reading
The lightest 7" eReader makes reading indoors easy and outdoors even more effortless. Meet BOOX Leaf, the reading-purposed tablet that lets you enjoy stories in any place, at any time.
Hit the Road. No Burden.
Light and Thin as a Leaf
Pack your Leaf with you wherever you head out. It's lightweight with only 170g and thin as 5.95mm. Whether you're on the road, in the camp, or on the hill, just grab it, turn it on and enjoy great stories with the lasting 2000mAh battery.
Lightweight Magnetic Case
The Leaf's magnetic case is like a skin on the device, slim but strong. It weighs 100g and creates a convenient reading experience paired with the device. When you go outdoors with Leaf, the case will well protect the device while adding little burden to your bag.
Simplicity in Nature
Designed with the mindset of simplicity, Leaf removes buttons on the front to reduce weight and makes your reading more immersive with only the texts on the HD screen.
Your Mobile Library
The library can be tiny but abundant. You can load many ebooks into Leaf and even enlarge its storage with a USB C flash drive. Or simply open Kindle and Kobo to read your favorite stories.
Read Near the Grill and In the Sun
With the anti-glare pre-installed film, Leaf makes reading in the sun effortless. When it's getting dark out there, you can turn on and adjust the front lights to get a better view.
In Any Way, Any Posture
With the G-sensor built-in, Leaf makes reading convenient. When you rotate the device, the screen will follow seamlessly and adapt to your using habits instantly.
Reading is more enjoyable when you attach Leaf to the magnetic case with buttons. You can press the buttons to turn pages without moving your thumb.
With a quality speaker, Leaf supports Text-to-Speech and audio apps. So you can listen to stories even if you didn't bring the earbuds.
Scratches? Bring it On.
Leaf is made for indoors and outdoors reading with its lightweight and durable body and the solid magnetic case.
Small but Strong
The body of Leaf adds a coating to endure scratches and fingerprints. And the structure makes it less likely to bend. So you can enjoy reading no matter you're in the room or on the go.
Elegant and Reliable
The magnetic case features two solid covers to well protect Leaf from any scratches. The fabric finish on the front can protect against the keys and cards in the bag. And the inner flips can stop the device from sliding. So Leaf is safe and sound.
Order Now
Bundle A includes a 40% off magnetic case.
BOOX Leaf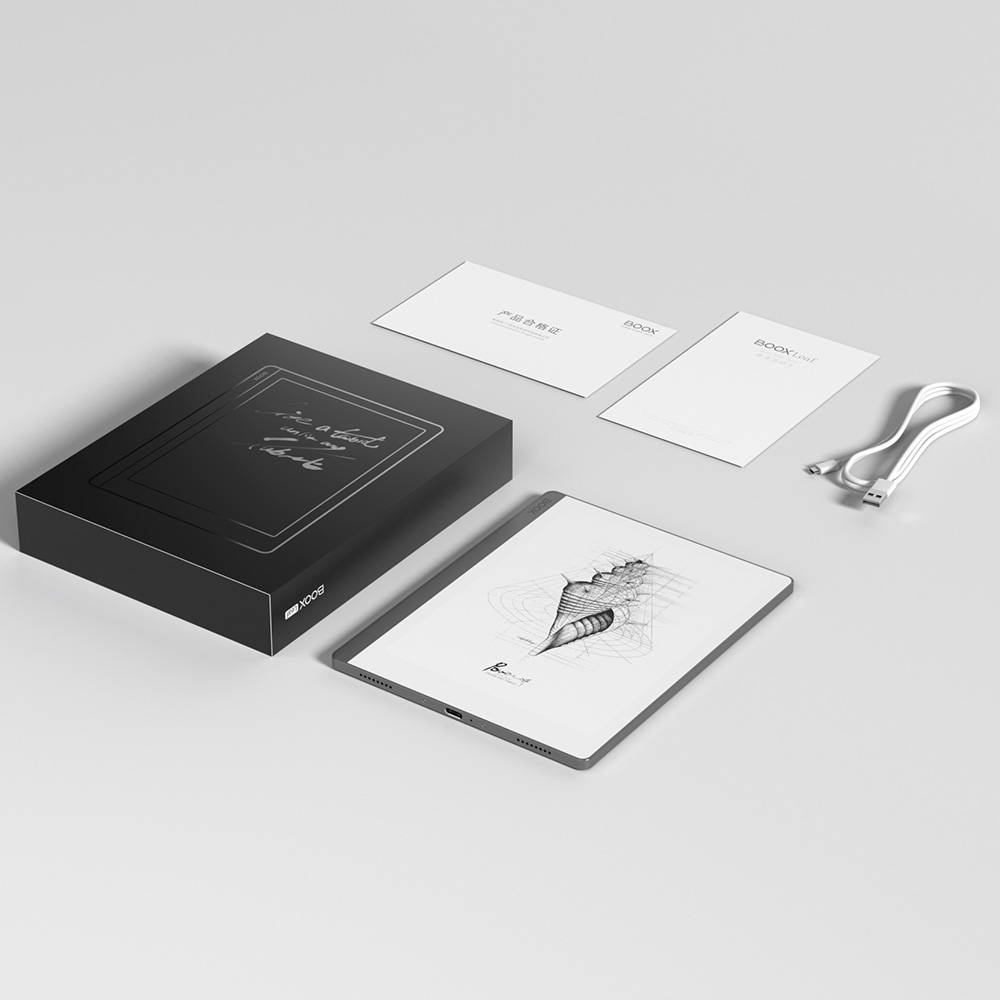 Hardware
Parameters: 7" HD Eink Carta Screen with cover-lens
Resolution: 1680x1264 (300 dpi)
Touch: Capacitive touch
Light: Front light with CTM (Warm and Cold)
CPU: Advanced octa-core processor
RAM: 2G LPDDR4X
ROM: 32GB
Connectivity: Wi-Fi (2.4GHz + 5GHz) + BT 5.0
Software
OS: Android 10.0
Documents Formats: PDF(reflowable), PPT,EPUB, TXT, DJVU, HTML, RTF, FB2, DOC, MOBI, CHM...
Image Formats: PNG, JPG, TIFF, BMP
Audio Formats: WAV, MP3
APP Store: BOOX Store
Support 3rd-party apps
Others
Buttons: power button
Expansion Interface: USB Type-C (support OTG)
Speaker: yes
Mic: yes
G-Sensor: yes
Battery: 2000mAh Polymer Li-on
Dimensions: 165.6x130.8x5.95 mm
Weight: ≤170g
Included In The Box (standard only)
Onyx BOOX Leaf X1,USB-C Cable X1,Quick Start Guide X1,Warranty Sheet X1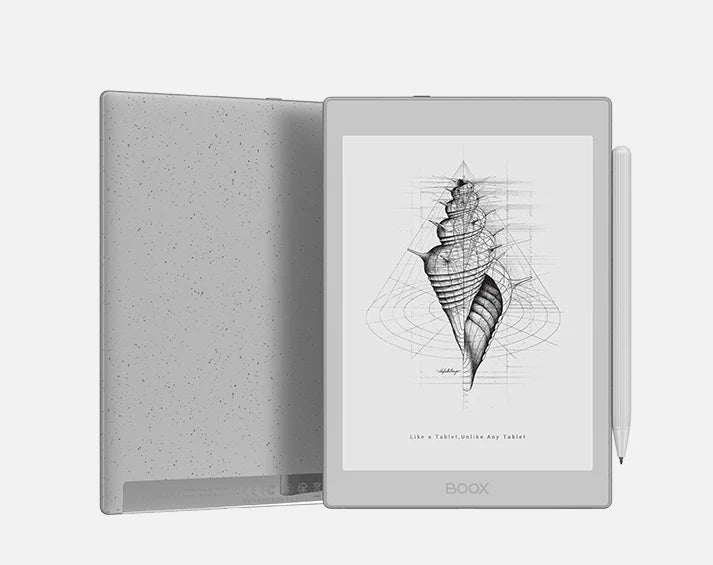 7.8'' Nova Air
Greyish-white design pairing a magnetic case and magnetic stylus. The Nova Air is beautiful, lightweight and perfect for travel.
Learn more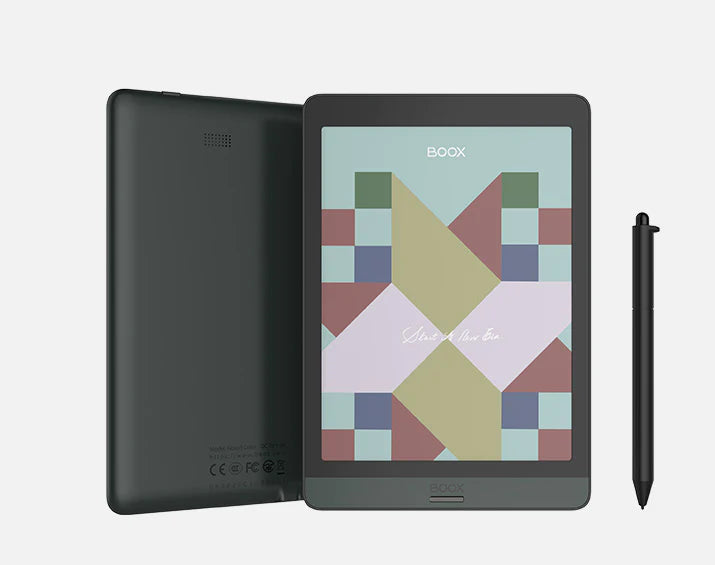 7.8'' Nova3 Color
Colorful, portable, writable. The Nova3 Color is ideal for visualizing your ideas on the road with colors and reading books in color.
Learn more
---
*BOOX is committed to offering 10GB Onyx cloud storage for free for all new and existing users. No matter which model you've purchased, you can get free 10GB cloud storage for each Onyx account to store your cloud files and keep them safe.
**BOOX is committed to providing free firmware updates for all models for more than 3 years since the product launch date. So every BOOX user can get improved experiences through continual updates.