Best E Ink Tablets for Reading Large-Format PDFs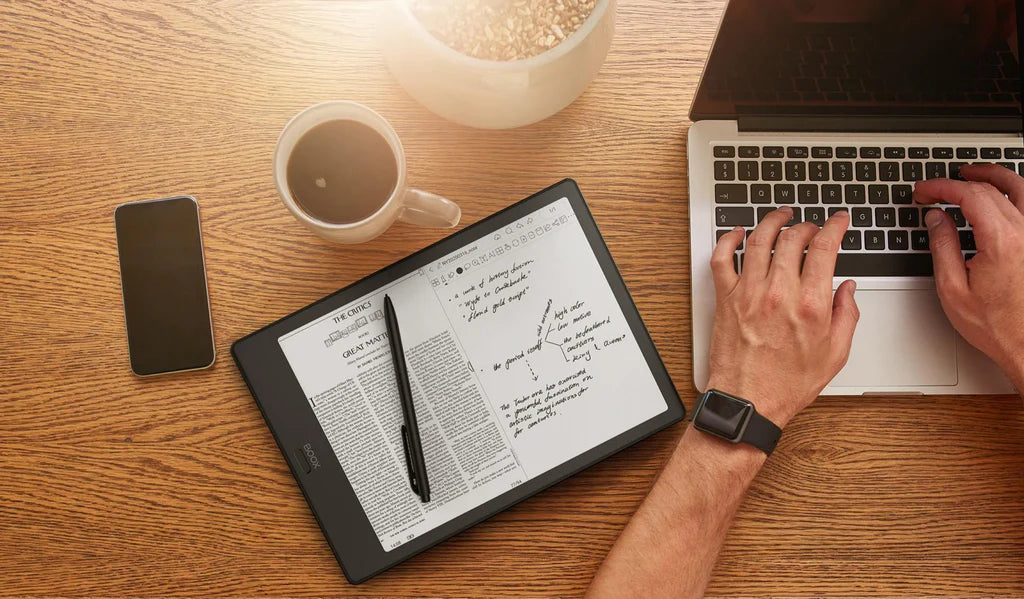 Ebooks are digital. Carrying ebooks around is more convenient than carrying real books. There're many ways to read ebooks on the trip, commute, home, and offices, such as reader apps for Mac, Windows, iPad, iPhone, and Android. But the best way to read ebooks always remains with an ebook reader.
Ebook readers use an E Ink screen that doesn't emit light like LED and LCD screens on your smartphones and computers.
They're power-efficient, eye-friendly with high contrast and low reflectiveness even in the sunlight. So you can enjoy your favorite stories wherever you are.
What device is best for reading ebooks?
The best device for reading ebooks is electronic readers with power and flexibility. They need to:
Support various ebook formats, including ePub, Mobi, Awz3, Txt, CBR, CBZ, FB2 and more.

Have a long battery life.

Offer convenient reading tools, such as adjustment for font, text size, paddings, margins and contrast.

And be flexible to accommodate different apps for ebooks.
To add to that, they also need to be portable and solid to accompany you through every outdoor activity.
BOOX Note Air, Nova3 Color and Nova3 appear to be the best E Ink devices for reading electronic books.
With Note Air, you can read ebooks in almost any format effortlessly. With its front lights, you can read through the day to night if you're camping in the starry night. Also, its gravity sensor makes it flexible for both handednesses. You can turn it around to get a comfortable view. Gripping its wider bezel gives you a secure hold of the device.
Moreover, with the magnetic BOOX Pen, you can take handwritten notes on the ebooks. After finishing annotating, you can snap the pen on the side and wait for your next inspiration to arrive.
 If you believe that a 10.3inch device is too big for casual reading, then you cannot miss out on the 7.8inch Nova3 Color. And this time, E Ink goes color.
BOOX Nova3 Color is the first color ebook reader running Android 10 and offering writing capability. Ebooks can show their excellent visuals in Nova3 Color's screen using the latest color epaper technology, Kaleido Plus. With Nova3 Color, you can enjoy the colors in comics, medical journals and ebook illustrations. Also, you can highlight sentences with marker pens in different colors.
Weighing only 265g, it's a colorful, portable library that offers thousands of books in your palm.
Nova3 Color can go with the traditional black and white E Ink screen which turns into BOOX Nova3.
Unlike Nova3 Color, Nova3 can only show 16 different grey scales, which offers a more immersive reading experience. When reading ebooks on Nova3, you won't be distracted by colors and focus only on the content. Packing a 3150mAh battery, Nova3 is lightweight and portable with incredible battery performance. It can last for 40 days on standby mode.
The HD Carta screen on Nova3 with 300dpi and 1872x1404 resolution can display crisp texts without causing eye strain. If you love reading ebooks, then Nova3 can be a perfect portable device.
The Best Way to Read eBooks
You can read ebooks with apps on PC and mobile, but the best way to read ebooks is using a digital eReader.
Using BOOX Note Air and Nova3, you can get an eye-strain-free reading experience. The texts and images will show high contrast in the monochrome E Ink screen to bring you a distraction-free, immersive display.
If you want to see the colorful graphs, Nova3 Color is the best digital E Ink reader to show the soft, relaxing colors.
All these electronic ink readers come with styluses and support annotation in all kinds of ebook formats, such as ePub, Mobi, Awz3, CBR, CBZ, FB2 and more. They are available at our officail website.