Introducing 7.8inch Color E Ink Tablet BOOX Nova3 Color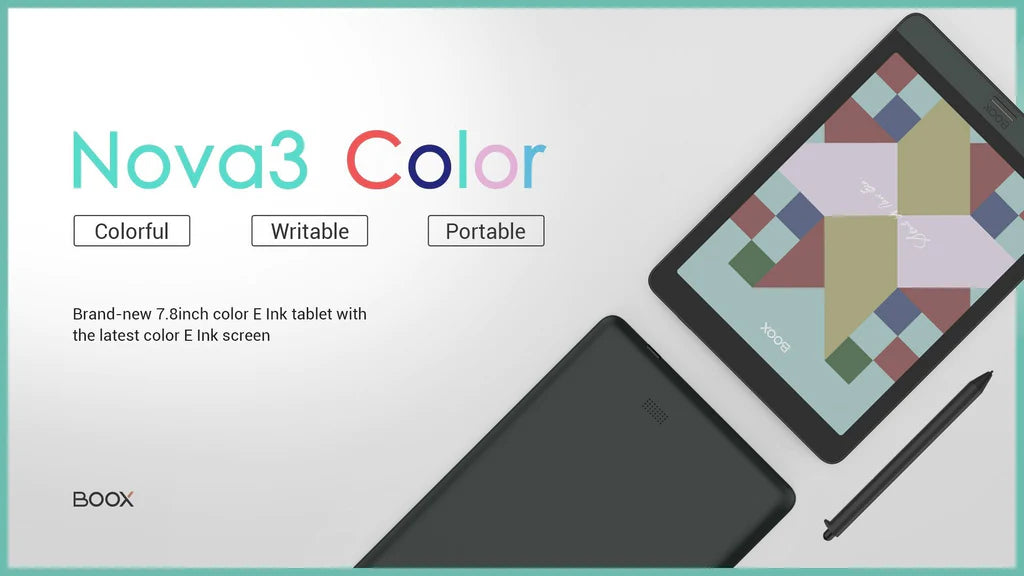 BOOX Nova3 Color, Onyx BOOX's first color E Ink tablet supporting Wacom stylus, debuts in the vivid, lovely Spring of 2021.
As a 7.8inch Color eReader using the latest third generation Kaleido screen, Kaleido Plus, Nova3 Color gets better color performance. Backed by BOOX screen algorithm, Android system, the newest BOOX firmware, and advanced hardware, Nova3 Color is getting you the most fun out of the color ePaper screen.
Ready to dig deeper into this color E Ink tablet? Keep reading.
The Latest Color E Ink Technology
BOOX Nova3 Color is a tech-plus-tech product combining the Kaleido Plus screen with the original BOOX color algorithm.
The new Kaleido, officially named E Ink Kaleido Plus, is the latest 3rd generation of print color technology. It improves color saturation by using a different printing pattern in the color filter.
It also shortens the distance between the color filter layer and the Ink receiving layer to better control the reflective optical path. In this way, it can reduce color shift and increase the viewing angle to 120 degrees.
Overall, Kaleido Plus showing soft 4,096 colors is up to three times better than Kaleido in color rendering.
Original Algorithm and Screen Enhancement
Based on the Kaleido Plus screen, our developers improve screen refresh performance and color saturation and brightness.
Considering the ghosting is noticeably severe for color E Ink screens due to E Ink's technology limitation, we develop a deep refresh mode in the NeoReader. Our original color algorithm paired with the unique refresh mode can offer a better reading experience for users.

To change the screen refresh mode in the NeoReader, tap the center to call out the hamburger icon in the upper right corner. And then tap "Screen Refresh."
We didn't stop there. Making a color E Ink screen more saturated and brighter is one of our goals, but we wanted to go beyond it.
Enter the Display Control mode.
The Display Control mode lying in the pull-down system menu can adjust the colors in three dimensions. You can separately modify the color saturation, contrast and brightness to render the best display for different content.

What do you actually modify when adjusting with the Display Control mode?
Color Contrast = Dark Color Enhancement
Color Saturation = Vividness/Vibration Enhancement
Color Brightness
In addition to color stuff, the 7.8'' Nova3 Color comes with a Wacom layer. Which means you can write, draw, sketch, and color on it wherever you go.
With the classic BOOX stylus supporting 4,096 levels of pressure sensitivity, you can use 16 colors and new lines and shapes (the arrowhead line is available!) to create fantastic work.
Each color is represented with a unique HEX8 Code to help you pick the correct one.
You can assign a style to each line and shape to make a dotted round or a dashed line with an arrow.
Moreover, you can use the horizontal canvas and assign it to a custom scale.
If you like to make beautiful journals, planners and doodles, the lightweight Nova3 Color can be your best color E Ink notepad and canvas.
For Manga, Comics, Work and Early Childhood Education
Like Nova3, Nova3 Color uses Android 10 to give this device the ultimate flexibility. You can use the handy built-in apps or install third-party apps from the Google Play Store.
You can choose the default powerful NeoReader or open a random book in Webtoon to read manga and comics.
Want to have a great time with kids? Youtube Kids and all kinds of storytelling applications are ready for viewing. More significantly, Nova3 Color uses a color ePaper screen that doesn't emit blue light or backlight vulnerable to eyes.
To make Nova3 Color more usable, we add adjustable, more eye-friendly white front lights on it. So you can turn on the light whenever you need it.
If you like E Ink tablets and readers with color temperature modification (CTM) front lights available in warm and cold tones, you can check out other BOOX monochrome products.
Become More Convenient With the Latest BOOX Firmware
In addition to the new screen and Android 10 system, Nova3 Color comes with the latest BOOX V3.1 firmware.
The V3.1 firmware has added a lot of new features to the BOOX ecosystem for both black and white and color devices. The most surprising features include the screen recording, direct file-sharing, new colors and recorder in the default Notes app, and original ePub style display.
With the latest firmware, Nova3 Color becomes more intuitive and convenient. You cannot miss out on this 7.8inch color E Ink tablet with the color display and advanced hardware.
Color is going to be the keyword of this year. Welcome to the colorful era with BOOX Nova3 Color. You can learn more about it at our official website and order it at our store.