The Making of Tab Ultra – Chapter 2: The Game-Changing Software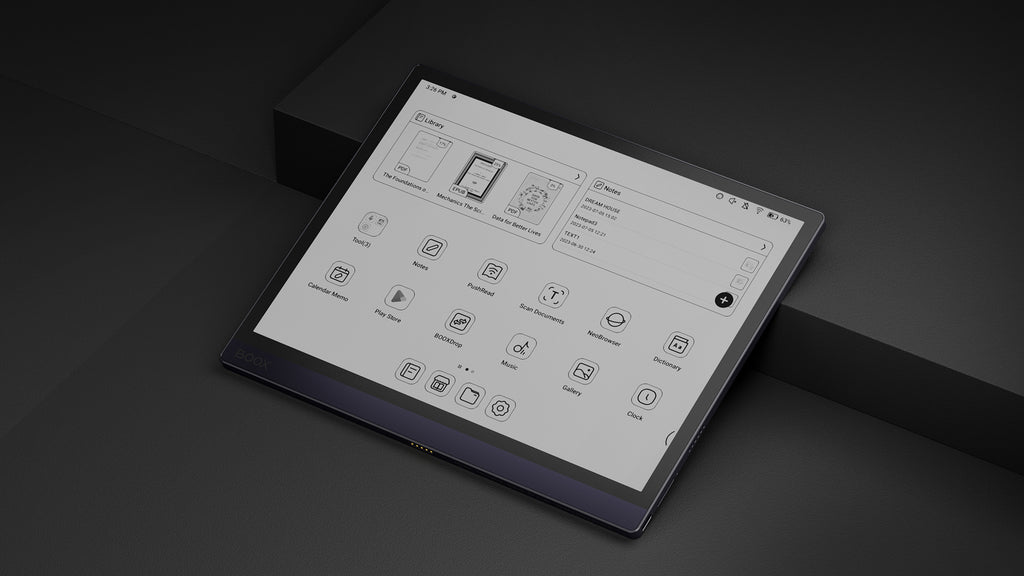 The Tab Ultra not only stands out with its superior hardware and innovative industrial design, but also incorporates our proprietary technology developed by our skilled technical team. Here you will know more about how we have enhanced the software aspect of our flagship product.
Screen Refresh
E Ink employs a distinct method for display and refresh, setting it apart from LED and LCD screens. Traditionally, E Ink products are laggy when you perform scrolling, and it is almost impossible to play videos. However, during the design phase of the Tab Ultra, we decided to debut the ground-breaking BOOX Super Refresh Technology that we kept refining for a certain time. With the help of the exclusive GPU, this technological advancement revolutionized the E Ink tablet experience with an unprecedented level of smoothness, particularly when using third-party apps. It surpassed our expectations by redefining how an E Ink tablet should evolve.
We designed four distinct refresh modes tailored to a variety of tasks and scenarios, including turning pages, typing texts, browsing the web, multitasking, and many more, so you can enjoy an ultra-fast response while minimizing ghosting, a common drawback encountered on E Ink products. The positive feedback we have received from our users speaks volumes, as they express how the Tab Ultra has fundamentally transformed their perception of E Ink devices.
We are also planning to perfect the refresh algorithm in our future updates and implement it on our most premium line of products.
User Interface
For our whole new product line, we planned to redesign a brand-new interface to offer an intuitive navigation system that allows you to effortlessly organize and access your content similar to a traditional tablet. With the ability to rearrange app icons, add widgets to your home screen, and leverage new multi-finger gestures, as well as the Navigation Bar as an alternative navigation method, you have the freedom to tailor the interface to suit your preferred work style. We hope this revamped interface can bring a new level of convenience and customization during your usage.
Moreover, we used the Smart Assistant to present a convenient screen displaying a range of useful shortcuts. With a simple right swipe on the first page of the home screen, you can swiftly perform tasks such as conducting quick searches or accessing your files and notes. This empowers you to access essential information efficiently.
In our quest for a modern aesthetic, we went the extra mile by redesigning the default shutdown image, initiating animation, and screensavers of the Tab Ultra. We aimed to use these visual elements to embody a futuristic vibe and strengthen its overall appeal to our users.
Writing Experience
Writing experience is a key factor to a productivity tablet, so we tried our best to improve the note-taking performance in the new device. Thanks to the powerful hardware, we successfully pushed the boundaries to achieve an exceptional industry-leading low writing latency that is never seen on the market. It guarantees a seamless writing feel when you take handwritten notes with the stylus.
For the first time, we implemented the tilt sensor to the pencil brush, which makes it one of the few E Ink devices on the market that can sense tilt. In this way, you can add shading and adjust the thickness of the pencil brush in the built-in Notes app with ease when you draw or write.