Ace the Semester with BOOX Note Air2 Plus: Free Pen2Pro for Enhanced Productivity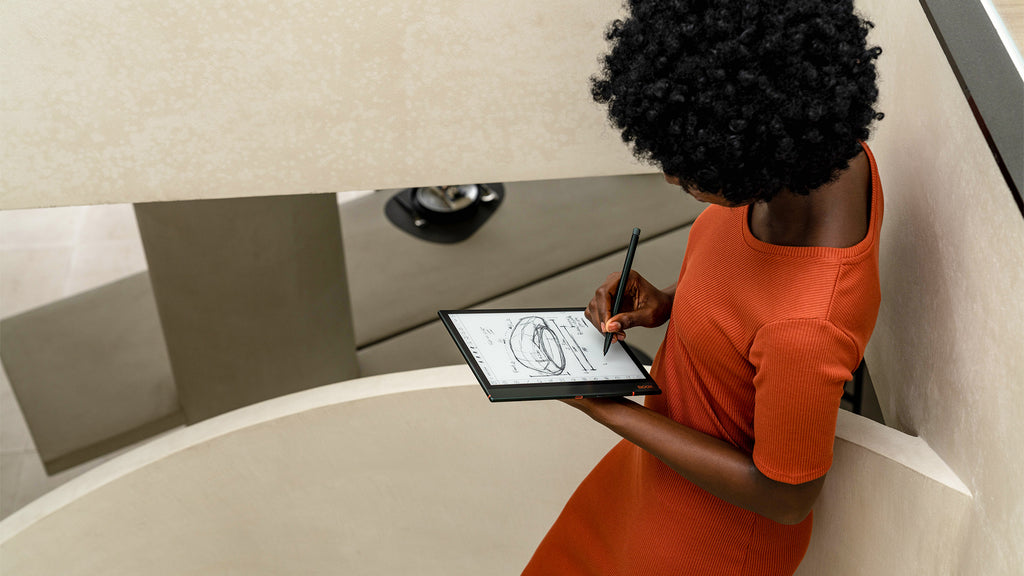 The back-to-school season is upon us. You may be excited and confident about the upcoming semester. However, it can also be overwhelming to keep up with your schedule and assignments.

Have you considered a hybrid eReader and note-taking device? BOOX Note Air2 Plus features an E Ink display that allows for comfortable reading without straining your eyes. It's an effective note-taking device, you can take notes during lectures, jot down ideas, and brainstorm while studying with a stylus. As well as stay organized and focused during class with the black-and-white display. Besides, you can get a free Pen2Pro with the purchase of Note Air2 Plus from the special Back-to-School bundle.

In this blog, you'll discover how the BOOX Note Air2 Plus can enhance your learning efficiency and provide an immersive reading experience.
Improve Learning Efficiency
BOOX Note Air2 Plus is an E Ink tablet with writing capabilities. With a monochromatic display, you can remain focused and productive. It also features a 10.3'' E Ink screen that reduces eye strain, allowing you to use it for longer periods.

Note-taking is the star feature of the BOOX Note Air2 Plus. You can use a stylus to write on the paper-like screen and enjoy a seamless writing experience. With the ability to draw, annotate, and highlight documents, you can capture your thoughts and ideas. It also offers various digital tools to suit your note-taking and sketching preferences. You can unleash your creativity on the close-to-paper surface and organize your points visually.
Plus, with the AI-powered handwriting recognition system, you can convert handwritten notes into digital text. This eliminates your need for cumbersome paper notes and bookmarking. You can also record audio, sync them to the cloud, and share them effortlessly. A split-screen annotation feature is also available. You can annotate and highlight important information while reading. With these advanced features, you can keep all your work organized in one place.

Note Air2 Plus runs on the Android 11 Operating System, giving you access to a wide range of Apps from the Google Play Store. Whether it's language learning apps, bookstores, or productivity tools, the possibilities are endless. You can download and use various apps to further enhance your learning experience. Customize your learning experience and make the most of your study sessions.
The Note Air 2 Plus also supports multiple digital formats. It provides you with a seamless reading of textbooks, reference materials, and papers. When using the Note Air2 Plus, you can switch between different formats with ease.

If you're looking for a device to boost your productivity and simplify your study process, you can go for the BOOX Note Air2 Plus. It's a great companion for you to excel in your studies.
Immersive Reading Experience
When reading on the Note Air2 Plus, you will expect an eye-friendly, paper-like reading experience. It's a thin E Ink tablet, measuring 5.8mm thick, so it's portable and easy to hold. It also has adjustable front lights, so you can change them based on different light conditions. This ensures you a comfortable reading experience, even in low light conditions.
You can enjoy an immersive reading experience by converting ebooks into audiobooks. It improves your concentration and focus with audiobooks, allowing you to absorb information more effectively. With the G-sensor, you can read in any direction and listen to your study materials on the go, making learning more accessible and convenient.
Ignite Your Creativity with Pen2Pro
Pen2Pro is a magnetic stylus designed to ignite your artistic potential. This modern and ergonomic stylus is comfortable to hold and easy to use. The fine nib of the Pen2Pro enables you to create precise lines and intricate details with ease. The eraser is at the end of the pen, making it easier to correct mistakes quickly and efficiently.
The Pen2Pro is a great companion to make the most of your Note Air2 Plus. With its 4096 levels of pressure sensitivity, the Pen2Pro provides exceptional handwriting and drawing experience. It allows you to express your ideas with precision and a smooth writing experience. Whether you're sketching, drawing, or taking notes, the Pen2Pro is the ideal companion to unleash your creativity to the fullest.
Conclusion
To sum up, the BOOX Note Air2 Plus and Pen2Pro are the dynamic duos that will revolutionize your academic journey. Embrace a hassle-free and productive experience with the ultimate companion.

Note Air2 Plus allows you to take notes, highlight content, and annotate, so you can organize and review your studies easily. This device streamlines your learning process and boosts your productivity.

The Pen2Pro provides a natural writing experience and precise input. You can easily jot down notes, highlight important information, and annotate your study materials. Whether you're in a lecture hall or studying on your own, the Note Air2 Plus and Pen2Pro combo will empower you to ace your semester with confidence.

The Back-to-School bundle of Note Air2 Plus is now available with a free Pen2Pro.