Unveil Tab Ultra: Our First Android ePaper Tablet with PC-Like Performance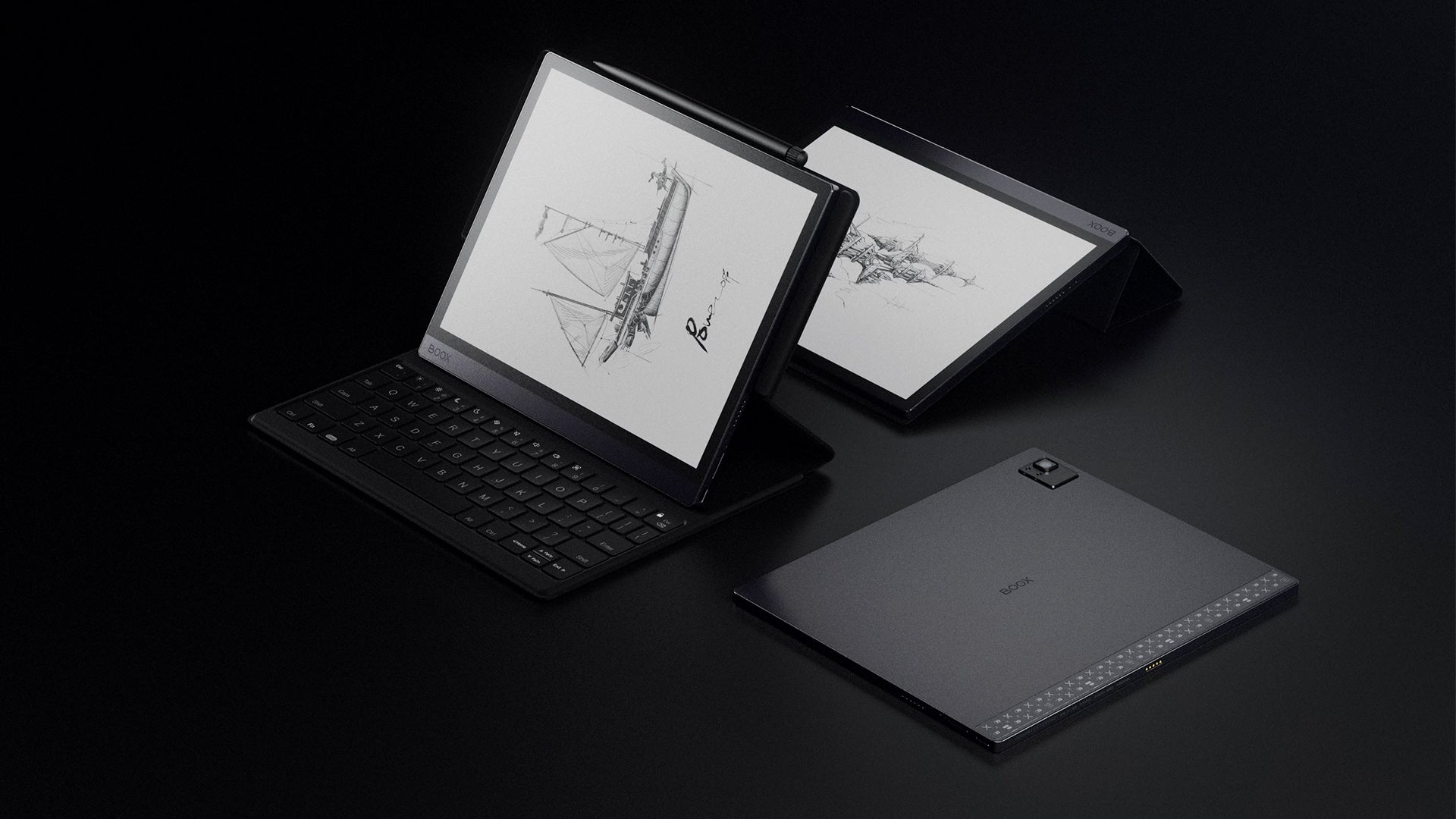 It's been a while since our last large-sized product, and today we're excited to announce our new ePaper tablet PC lineup, and its first model the 10.3'' Tab Ultra.
Tab Ultra is more powerful than the E Ink tablets you've seen before. With more advanced hardware and software, it's made for professionals with high productive requirements and eye protection needs. And it gets a redesigned system and new accessories, including a magnetic keyboard, to provide a similar experience to tablets and laptops.
We push ePaper products to their boundaries through Tab Ultra, making it a truly productive tool that can help you do almost everything on one E Ink device.
Now, let us show you our most daring innovations for 2022. 
Innovation #1: A Distinctive GPU Powered with BOOX Super Refresh Technology
If you haven't heard that ePaper tablets can be equipped with a GPU, then you should take a look at the new Tab Ultra.
The new GPU is the first feature we'd like to highlight on this ePaper tablet PC. With such hardware, the Tab Ultra can provide a smoother display for all kinds of tasks. If you intend to use an ePaper product for purposes other than reading and taking notes, the Tab Ultra's advanced hardware can provide a more satisfying experience.
Such a powerful GPU is also optimized by the BOOX Super Refresh Technology. Unlike any products we've made before, the Tab Ultra offers four new refresh modes: HD, Balanced, Fast, and Ultrafast. These modes can help you smoothly turn pages, type texts, browse web pages, and finish more jobs.
Innovation #2: Crystal Clear ePaper Screen
To help you get a clearer and more paperlike screen for your work tasks, we also optimized the display module of the Tab Ultra. 
By reducing the touch layer by 50%, we bring the content closer to the front layer and your eyes. So when you look at the Tab Ultra, it will feel like the text was printed on the screen because it looks so natural and comfortable.
The handwriting experience is not as pen-to-paper as that of the Note Air2, a versatile tablet for professional reading and note-taking. But the Tab Ultra provides a better experience than LED tablets; when you write on it, you will experience minimal latency and appropriate friction. You can also build your knowledge system using all of the new and existing features in V3.3 firmware, such as hyperlinks, recording marks, and live text conversion.
Innovation #3: Quick Scan with 16MP Camera
Among all the first times in Tab Ultra, the camera is the most surprising one. The Tab Ultra, an ePaper device, now has a rear camera. In addition, the camera has 16 million pixels.
We did that because we believe it will improve the workflow of our users. Other than using your cellphone, you can use the Tab Ultra to scan a document, convert it to text, send it to a computer for further editing and share it with friends.
Work should be straightforward. When you use an ePaper device, it is now powerful enough to help you finish tasks without hassles.
Innovation #4: Type in Your Way with Magnetic Keyboard
Another feature that distinguishes the Tab Ultra is its compatibility with a new magnetic keyboard cover. 
We created a new magnetic keyboard that can be attached to the device with pogo pins to create a convenient 2-in-1 experience and make Tab Ultra more like a laptop. This means that no additional power or Bluetooth pairing is required for such a keyboard. You only need to connect it to the device to begin using them right away.
The magnetic keyboard is 40% smaller than a full-size keyboard, but its keycaps are the same size as those on a laptop. As a result, you can type comfortably on it.  
Furthermore, the unique shortcuts allow you to do a variety of things with just a few taps, such as refreshing, returning to the home page, viewing multitasks, and adjusting front lights.
Innovation #5: More Tablet-Like User Interface
The Tab Ultra is more similar to a laptop with a magnetic keyboard. And it gets closer to a tablet with the redesigned user interface.
The new interface consists of three parts: the Home Screen, the Smart Assistant and the System Menu.
The Home page can accommodate more things, including app icons and widgets. You can now add and customize widgets on Tab Ultra in the same way that you can on your Android devices.
The Smart Assistant includes shortcut widgets for useful apps like the built-in NeoReader, Notes, and Calendar Memo. You can see your recent books, notes, and today's memo without having to open any apps.
And the global menu consolidates more functions into a single location. Swiping down brings up the menu, from which you can take a screenshot, transfer files with BOOXDrop, and refresh the screen with a single tap.
Seamless Working Experience
Tab Ultra is a highly effective ePaper tool for productive work. It can perform a variety of tasks thanks to Android 11 and an advanced octa-core processor. With the GPU and BOOX Super Refresh Technology, you can enjoy an unprecedentedly smooth ePaper experience.
You can see the text clearly on the HD screen. And you can use the camera to quickly scan and convert any documents. Also, with the magnetic keyboard, typing is an easy job on Tab Ultra.
The Tab Ultra is now available at the BOOX Shop. The standard bundle includes an ergonomic three-fold magnetic case and a Pen2 Pro stylus with an eraser. You can also get a special deal on the magnetic keyboard.