Nova Air
Read and Write with Delight.
Endorsed by World's Famous Media
This is the lightweight, capable E Ink tablet that reviewers love.
If you're looking to buy a note-taking/e-reader that's capable, but not capable enough to distract from the task at hand, the Nova Air is definitely something you should consider.
La Nova Air est sans conteste l'une des meilleures liseuses 8'' du moment. Aussi élégante que performante, elle jouit d'une polyvalence sans égal grâce au logiciel Onyx couplé à Android.
Nothing beats paper for note-taking or reading. But the 7.8-inch Onyx Boox Nova Air's backlight-free E Ink screen comes close, without the bulk.
Les finitions et la finesse exemplaires de cette liseuse tout en légèreté, qui fait office de bloc-notes numérique grâce au stylet fourni, reflètent une rupture de design pour Onyx Boox.
I've been on a quest to find the perfect E Ink device that combines all the best features and applications of electronic ink while still being small enough that I'll actually want to carry it around all day. For my needs, that device is the new Onyx Boox Nova Air.
Si buscas un libro y cuaderno superpotenciado con las ventajas de Android, sentirás que este es un dispositivo de ensueño.
A Breath of Fresh Air
The 7.8inch E Ink tablet becomes lighter and thinner without compromising on quality and power. Introducing the brand-new Nova Air, the portable eReader that kindles your joy for every task on the go.
As light as air
Easy on the eyes
Dual speakers
Sleek design
Open Android 10 OS
Type-C connection
Nova Air vs. Nova3
Less Effort and More Joy
Nova Air features a 6.3mm thinness and a 235g weight that make reading, note-taking and drawing as fun and effortless as dancing on air. But this is not all it gets. The magnetic stylus and case double the convenience. And the all-white design with a stunning metal back case decorated with natural spots endows Nova Air with both aesthetics and durability.
Read in More Than One Way
Read and write on whatever ebook format.
Nova Air supports reading and taking notes on most ebook and file formats from epub, Mobi to pdf and PowerPoint slides. Its 7.8'' HD E Ink screen makes texts sharp and clear to rest your eyes.
17 File Formats
Get rid of file format conversions.
Hand-writing Notes
Take notes on all files.
Turn pages effortlessly.
The brand-new magnetic case with two physical page-turning buttons lets your thumb move less. No swipe is needed. Snap Nova Air to the case, then you're all set to dive in reading with light pressing on the buttons.
Read books or listen to books.
Read books or listen to books. Two Hi-Fi speakers on the bottom provide high-quality stereo sound for audio playing. Open your favorite book and tap the Text-to-Speech button—Voilà, the story begins to stream from your Nova Air. Lay back and enjoy.
Use it outdoors and indoors
The anti-glare film makes Nova Air readable in the sunlight. The adjustable front lights also make reading available in the room. Pack this lightweight device with you when traveling, then you can finish the most intriguing plots by the picturesque scenery and in the resort.
Level-up Handwriting Feel
Nova Air with an exclusively developed film improves the handwriting experience. Whether you're writing, scribbling or sketching, the pre-installed film can better protect the screen from scratches. Paired with the BOOX Pen, it makes sure you get a refined pen-to-paper feel.
*The film is pre-applied and laminated on the screen. Force removement may destroy the screen.
Take Beautiful Notes and Convert
It's simple to take beautiful notes and convert them on Nova Air. Use multiple brushes, shapes and layers to turn inspirations on the go into vivid markups. And with the robust handwriting recognition built in the Notes app, you can convert your notes into texts with just two taps.
5 Brushes
Unleash your creativity with power tools.
5 Layers
Do complex compositions easily without having to be a guru.
Handwriting Conversion
Organize thoughts instantly.
The magnetic BOOX Pen
The magnetic BOOX Pen is in white now. Designed in conjunction with the Nova Air, the white BOOX Pen offers strong magnets and a comfortable grip. It can be firmly attached to the device, so you can use it any time and take it anywhere.
4096-level
pressure sensitivity
Light in Weight, Heavy in Power
Nova Air combines advanced software with a leading processor and ample storage, making it compatible with most third-party reading apps. On the way to the office and home, you can spend time on more best-seller stories.
Sync and Transfer, Easy as A Breeze
With Nova Air, getting files synced and transferred is all hustle and no hassle. Sync the notes to the cloud and view them on the computer and mobile. Transfer books, images and web articles to Nova Air to read them without straining eyes.
Seamless Synchronization
Multiple Transferring Ways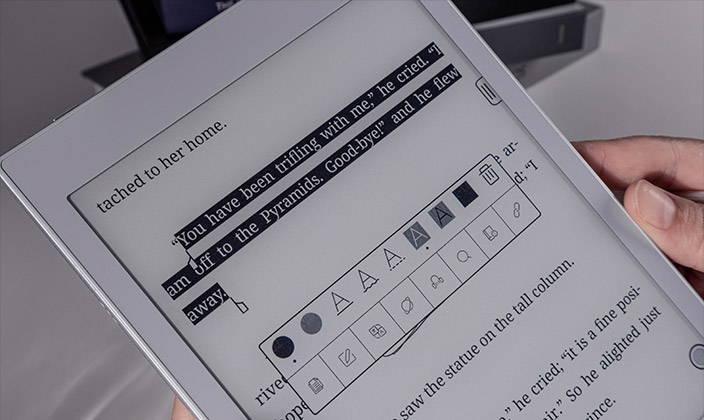 Protect Your Nova Air from Scratches and Drops
Stained and oxidized metal can cause connection failure. If you can't use the buttons in the case after connecting it to Nova Air, please wipe off the stains on the pogo pins with alcohol pads and try again.
Magnetic Case
A dedicated case made for Nova Air to keep it safe and enhance usability. The brushed pattern with metal gloss is perfectly matched to the metal back case of Nova Air.
Magnets can attach to Nova Air with a snap.
Physical page-turning buttons reduce thumb movements.
Anti-slippery inner flips and increased thickness make your Nova Air safe and sound.
Add To Cart
Check out with Nova Air to get 40% OFF on the case.
Notice
Sharp objects and large external force can easily damage the magnetic case of Nova Air. Please be careful when using it.
BOOX Nova Air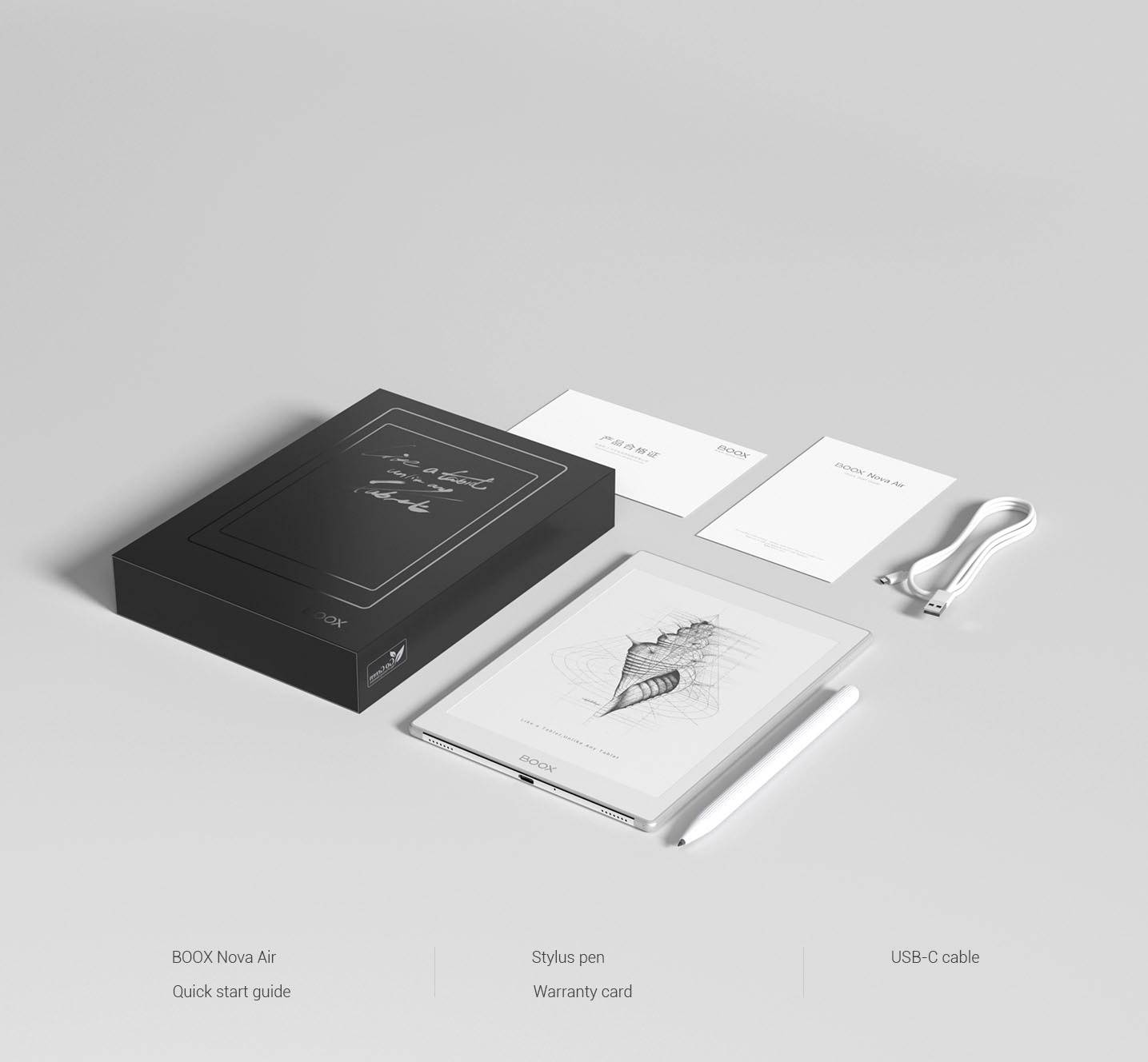 Hardware
Screen: Parameters:7.8" HD Eink Carta Screen with AG glass flat cover-lens
Resolution: 1872x1404 Carta (300 dpi)
Touch: BOOX Pen Stylus touch (4096 levels pressure sensitivity) + capacitive touch
CPU: Updated Octa-core
RAM: 3GB (LPDDR4X)
ROM:32GB (eMMC)
Connectivity: Wi-Fi (2.4GHz + 5GHz) + BT 5.0
Front Light with CTM (Warm and Cold)
Software
OS: Android 10.0
Documents Formats: PDF(reflowable), PPT,EPUB, TXT, DJVU, HTML, RTF, FB2, DOC, MOBI, CHM...
Image Formats: PNG, JPG, TIFF, BMP
Audio Formats: WAV, MP3
APP Store: BOOX Store
Support 3rd-party apps
Others
Buttons: power button
Expansion Interface: USB Type-C (support OTG)
Speaker: Built-in dual speakers
Mic: yes
Earphone Jack: USB-C earphone jack
Battery: 2000mAh Polymer Li-on
Battery Life: Up to 26 days (standby mode)
Dimensions: 194x136.5x6.3 mm
Weight: ≤235g
Included In The Box (standard only)
Onyx Boox Nova Air X1,Stylus Pen X1,USB-C Cable X1,Quick Start Guide X1,Warranty Sheet X1
Handling time:
When receiving an order, usually it will take 1-3 business days to prepare the products prior to shipment.
China warehouse:3-5 business days
US warehouse:1-2 business days
EU warehouse:1-2 business days
UK warehouse:1-2 business days
Delivery schedule:
The shipping method may vary depending on your shipping address, country, and region. Once your order is ready for delivery, you will receive an email from us with the tracking ID.
The estimated shipping time:
The estimated shipping time for normal order is 7-15 business days after delivery. And the estimated shipping time for the pre-orders will be within 30 days. For the accessory order only, it will take 7-30 business days.
Please note that customer shall be responsible for any additional fee caused by redirect request on your side, when the product has been shipped already.
*Please note that there will be shipping delay because of the Corona pandemic,public holidays in US/DE/CN or your country, such as the Christmas or New Year holiday.
The Customer acknowledges that delays to the estimated dispatch and delivery date may occur. BOOX shall not be held liable for delays to the estimated delivery in the following circumstances:
BOOX shall not be held liable for delays to the estimated delivery date provided natural disaster, strike and customs inspection occur during delivery.
The product will be delivered to the delivery address specified by the Customer in the order form. The Customer is responsible for ensuring that the correct address is registered at all times, and BOOX shall not be liable for any loss resulting from the Customer's failure to update his delivery address.
In order to avoid package change address fraud cases, Booxshop would be not allowed to modify the shipping information for customers after your order is confirmed. Therefore, If your shipping information is incorrect, please contact us via booxshop@boox.com to cancel your order and reorder to fill out the correct one. Besides, if you contact us after the package has been sent out, the shipping information can't be modified and your order could not be canceled as well.
Delivery has occurred when the Customer, or his representative, has taken possession of the Product. The risk of the Product passes to the Customer when he or his representative has received the Product. If the Product is not collected or received on time, and if this is due to the Customer or circumstances related to the Customer, the risk passes to the Customer when the item is at his disposal and the failure to take possession of the Product constitutes a breach of contract by the Customer. BOOX reserves the right to charge the Customer for extra shipping costs due to Customer's failure to collect the Products in time.
BOOXShop Distrubition(Device only)

Warehouse

Preliminary shipping costs areas

Vantage shipping costs areas

Higer shipping costs areas

Notes

United States

United States(Besides Alaska/ Hawaii)

United States(Alaska/ Hawaii)

No imported tariffs in gerenal

UK Warehouse

United Kingdom

No imported tariffs in general, With VAT need to pay

EU Warehouse

Germany, Belgium, Czech Republic, Denmark, France, Italy, Luxembourg, Netherlands, Poland

Austria, Bulgaria, Estonia, Finland, Greece, Hungary, Latvia, Portugal, Romania, Slovakia, Slovenia, Spain, Sweden,

Cyprus, Lithuania, Malta, Croatia

No imported tariffs in general, With VAT need to pay

China Warehouse

United States,United Kingdom,Taiwan, Australia, Japan, Philippines, Thailand, Canada, Kuwait, Brunei, New Zealand, Indonesia, Saudi Arabia, United Arab Emirates

Armenia, Holy See (Vatican City State), Iceland, Liechtenstein, North Macedonia, Monaco, Norway, Switzerland, Bahrain

Others

Please contact this email address booxshop@boox.com if any questions
*In general, it will be shipped by parcel post while you place an order with accessories. Please kindly check the details at the checkout.
*Please note that the shipping costs will be superimposed when you choose more than one warehouse while placing an order.
Taxes & Duties
When purchasing international products from BOOX, the seller of those products is Onyx International, a Chinese company and you are the importer of record. As the importer of record, you shall pay import duties, taxes, and fees when the products arrive in your country/region according to the local regulations.
Learn more about Taxes.