BOOX x Connected Papers: The Ultimate Academic Tools for Productivity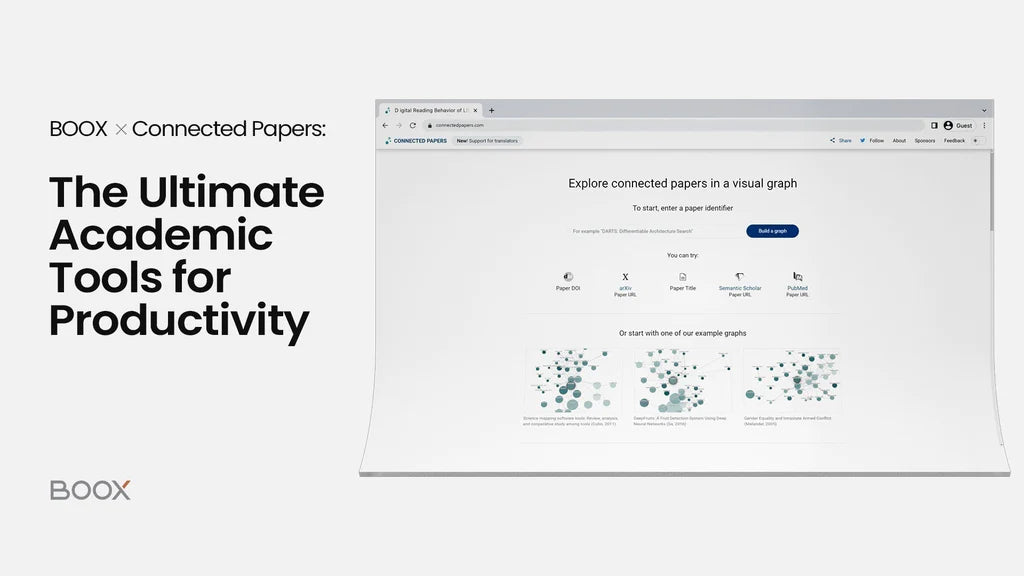 BOOX is an industry-leading E Ink electronic brand. We offer versatile E Ink tablets, especially in 10.3inch and 13.3inch, to help people read, work and study effectively without eyestrains. Using our powerful system and tools for PDFs, many users take BOOX as their go-to eReader for academic papers. We feel deeply connected with the users who read and research a lot. 
That's why we're so glad that we met Connected Papers, an advanced visual tool for academic research, and fuel its development with our sponsorship.
Disruptive visual research tool Connected Papers.
A Novel, Disruptive Research Tool
Connected Papers goes beyond traditional research tools. It reveals the connections of papers but shows more about them in a creative, more helpful way. As per its description, "this is not a citation tree."
It groups the papers based on their citation and reference similarity then shows them in straightforward, flexible graphs. 
Research for students' reading behaviors in the digital age.
Even if the papers don't cite each other, they will appear nearly with highly overlapping citations and references. So users can better discover the relevance of more documents to their fields rather than just the direct connections between resources. 
And research becomes much easier and more effective with this tool.
Together for Better Academic Results
We love how Connected Papers turns academic research into a productive and pleasing task. Work should be smart rather than hard, which is also what we're helping people to achieve.
Since 2008, we've been helping people read PDFs and more digital files without the hindrance of formats and eye strains. Users can adjust the font size, paddings and margins of the digital files. And read them comfortably with our large, paperlike E Ink tablets.
It also explains why we're excited to endorse Connected Papers to help the tool continue and make its way to our users. The academic research becomes productive with Connected Papers, and the content consumption becomes effective with BOOX.
We're the perfect partners to help you achieve more incredible academic results without hassles. Can't wait to see you using both in your work and study.
Use BOOX and Connected Papers for better academic studies.