Introducing Tab X: The Powerful ePaper Tablet PC is Going A4-Sized Now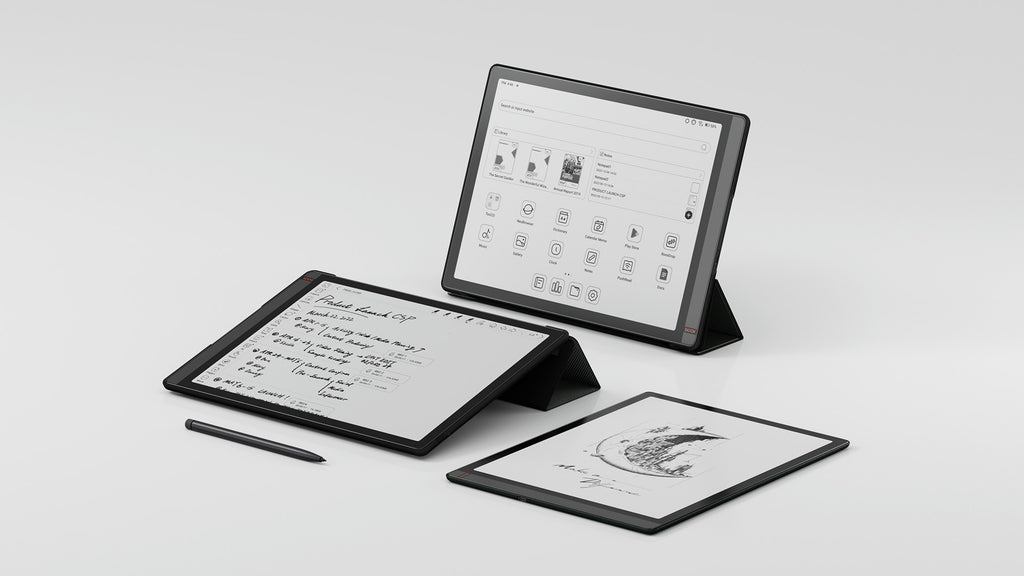 On the first week of 2023, we decide to bring you a surprise by releasing Tab X, the powerful A4-Sized ePaper Tablet PC. Here we will give you a detailed overview of this new successor to our 13.3" Max Lumi Series.
Unparalleled Refresh Performance
Like the great hit Tab Ultra released several months ago, Tab X inherits the BOOX Super Refresh Technology backed by the dedicated GPU, which makes the refresh experience ultra smooth and responsive. Four new refresh modes are designed for different tasks such as reading, note-taking, and using apps on the ePaper screen. Scrolling through webpages is an exceptionally pleasant journey with minimal ghosting.
Premium Hardware Configuration
Compared to its predecessors, Tab X is equipped with a G Sensor for auto rotation in addition to an internal storage of 6GB RAM + 128GB ROM and the Qualcomm advanced octa-core CPU. The screen is significantly optimized with the 50% thinner touch layer to create a crisper paper-like view. Even with a larger built-in 6,300mAh battery, it is still 1.1mm thinner than the previous 13.3" model and has a sleeker design.
Versatile and Intuitive Software
Tab X shares the same user interface with Tab Ultra so that you can enjoy a tablet-like experience on a bigger screen. Thanks to the Android 11 OS, Tab X provides the liberty to download any third-party apps through Google Play Store as well as the all-around NeoReader and Notes app of the continuously updated BOOX firmware. It also supports the Bluetooth keyboard connection to ultimately boost your productivity by typing the way you are most familiar with.
Full Accessories Selection
A black Pen2 Pro is included in the Tab X standard package to offer a pen-to-paper handwriting feel with the eraser function on the back. When it is purchased from the official BOOX Shop, you will get a special bundle that includes spare nibs and the tri-fold case for use as a stand while providing excellent drop and scratch protection.
Tab X is available now in the official BOOX Shop at $879.99 / €949.99.