BOOX Gift Guide for 2022 Holiday Season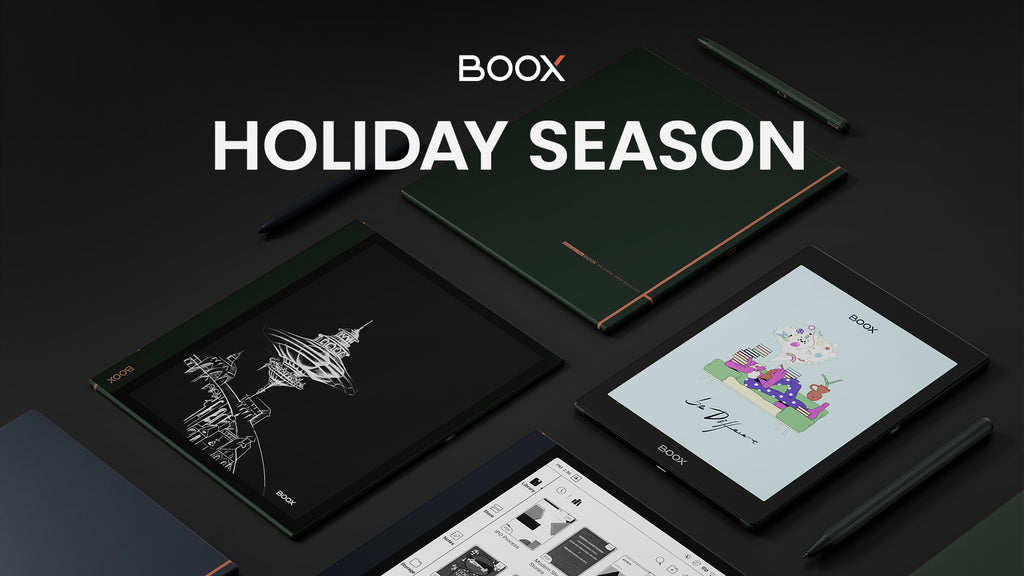 BOOX E Ink tablets are best known for their open Android operating system to enable limitless third-party apps with eye-friendly screens to reduce the digital eyestrain. As the holiday season is just around the corner, the official BOOX Shop has begun the End Of The Year Promo, with discounts of up to 10% off for some of our bestsellers. Here we will recommend some of our best E Ink devices as gift options for the 2022 holiday season.
Best for eReading Newcomers: Leaf2
Leaf2 is a newly released entry-level 7" compact eReader with built-in page-turn buttons, which adds an easy and intuitive way to turn pages besides swiping or tapping on the screen. Available with 2 color options, the black version is engineered with a flush screen while the white version has a sunken screen to offer a crisper viewing experience.
It has an internal storage of 2GB RAM + 32GB ROM with an expandable microSD (TF) card slot. It can support nearly any popular ebook format, needless to say your familiar third-party reading platforms. It is priced at $199.99 in the official BOOX Shop.
Best for Sophisticated Users: Note Air2 Plus
Note Air2 Plus are in one of BOOX's bestselling Note Air2 Series lineups with both reading and note-taking functions. As an outstanding productivity tool, it is equipped with a 10.3" E Ink screen, similar to the A5 size, to guarantee a close-to-paper writing feel with the included stylus.
With configurations of 4GB RAM + 64GB ROM, it has an advanced octa-core CPU to back up every task you are working on. The stylish green look with a premium aluminum construction makes it best to boost your working performance on the go. It is also recognized as the "best e-reader if you're big on taking notes" in the Buy Side from The Wall Street Journal in 2022. It is priced with $20 off at $479.99 in the official BOOX Shop.
Best for Color E Ink Enthusiasts: Nova Air C
Nova Air C is a 7.8" color E Ink tablet capable of colorful eReading and note-taking based on On-Cell Kaleido Plus, the latest color E Ink technology that has the highest Paper Similarity Index (PSI) of all comparable products on the market and supports a 100dpi display of 4,096 colors and 300dpi of black and white. Unlike conventional LED / LCD displays, it is a power-saving and eye-friendly gadget to display attractive illustrations for kids.
With adjustable dual-tone front lights, it can be your great companion either during the day or at night. The optional magnetic case can provide excellent protection while adding external page-turn buttons. It is also priced with $20 off at $429.99 in the official BOOX Shop.
Best for Professionals: Tab Ultra
The brand-new Tab Ultra is a game changer in the industry as a redefining E Ink device to easily fit in any workflow. It features the BOOX Super Refresh Technology to achieve ultra smooth refresh rates compared to typical ePaper devices on the 10.3" E Ink display powered by a Qualcomm octa-core CPU and an exclusive GPU.
It is equipped with a 16MP rear camera for built-in document scanning and OCR functions as well as compatibility with third-party photo and scan apps. The magnetic 2-in-1 Keyboard Cover is an optional accessory with extra protection and productivity when used as an external keyboard. It is priced at $599.99 in the official BOOX Shop.