Introducing BOOX Nova Air: The Ultra-Light And Thin 7.8inch E Ink Tablet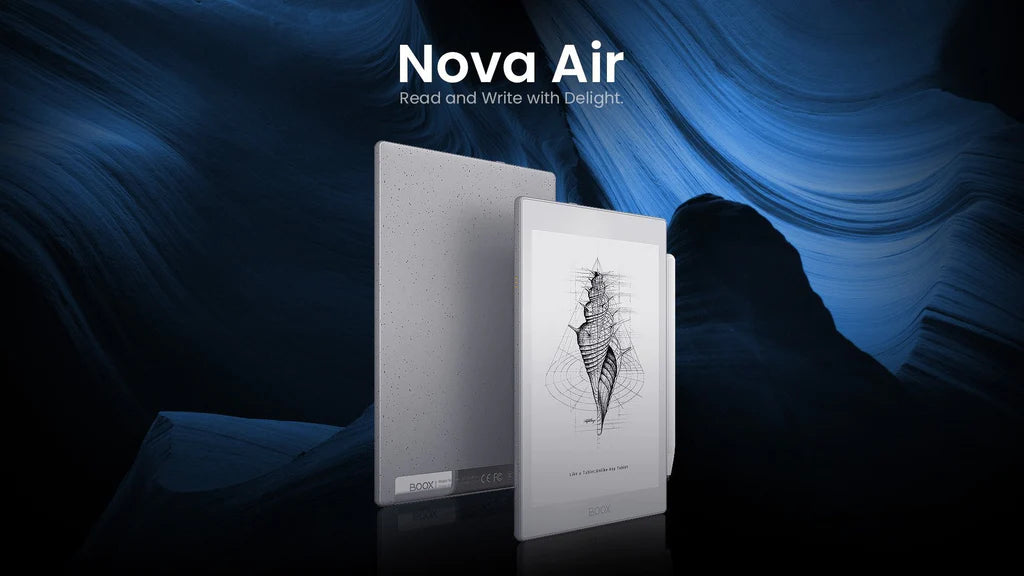 At the end of 2021 Summer, we release BOOX Nova Air, a portable 7.8'' E Ink reader designed for reading and writing on the go. It's lighter and thinner with a brand-new design. Combining the strengths of BOOX, Nova Air is an excellent Android epaper device for stories and inspirations on the trip and commute. 
This new device is available on the official BOOX website. 
A Breath of Fresh Air
As its name suggests, Nova Air is a small-sized, lightweight E Ink device, which makes it different from other BOOX gadgets.
Weighing only 235g, BOOX Nova Air is 30g lighter than Nova3. It's also 1.4mm thinner than Nova3, making it the most delicate and thinnest model in the 7.8'' BOOX Nova series. Such a form factor can significantly reduce the burden of outdoor activities.
Nova Air adopts an all-white design—which only appeared once in the previous BOOX models. The white bezel makes the 7.8inch screen larger. And it strikes a balance with the greyish-white metal back case, contributing to the visual pleasure of the whole device.
Speaking of the material and design of the back case, they are dissimilar to any BOOX device. Using a durable and lightweight metal, Nova Air is light and solid. The randomly decorated spots on the back case create a hint of visual joy. They also increase friction to offer a firm grip.
Support Magnetic Accessories
One of the most significant surprises of Nova Air is it is compatible with both magnetic stylus and protective case.
The magnetic BOOX Pen is in white to echo the Nova Air's design. The strong magnets can firmly attach to the device so users can easily snap the pen on the side without worrying about it dropping off. 
Also, BOOX offers a specialized magnetic case for Nova Air. What tells it apart from other protective cases is its physical buttons. When users attach Nova Air to the case, they can turn pages with the buttons to reduce the thumb movement. They thus can get a more comfortable and ergonomic reading experience.
Read and Write with Delight
Combining the form factor, new features and various functions, Nova Air becomes an outstanding device for reading and writing on the go. 

Users can read 17 types of ebooks without format conversion and take handwriting notes on the books directly. With the physical buttons of the magnetic case, users can enjoy reading without tiring the thumb. The two high-quality speakers on the bottom also provide stereo sound for audio playing. So it's convenient for users to listen to books and podcasts even if they don't have Bluetooth earbuds connected to the device
The handwriting experience on Nova Air also steps into another level. The pre-installed film not only protects the E Ink screen from scratches but also offers a better close-to-paper feel. No matter where users are heading, they can take this digital notepad with endless paper and various tools to record their ideas.  
Offer More Flexible Features
Nova Air is a lightweight, small-sized and thin device, but its portability doesn't compromise its versatility.
The adjustable front lights paired with an anti-glare film make Nova Air readable in the sunlight and indoors. So users can enjoy their favorite stories by the picturesque scenery and in the room.
Nova Air packs the open Android 10 system, a leading processor and ample 3+32G storage into a thin body, so it's compatible with most third-party reading apps. Also, the advanced cloud system makes it all hustle and no hassle to sync and transfer files. The flexibility makes Nova Air a versatile device to meet all kinds of light reading and note-taking needs.
Nova Air is available on the official BOOX website. You can pre-order it now to get a free protective sleeve.