5 Tips for Taking In-Book Notes with BOOX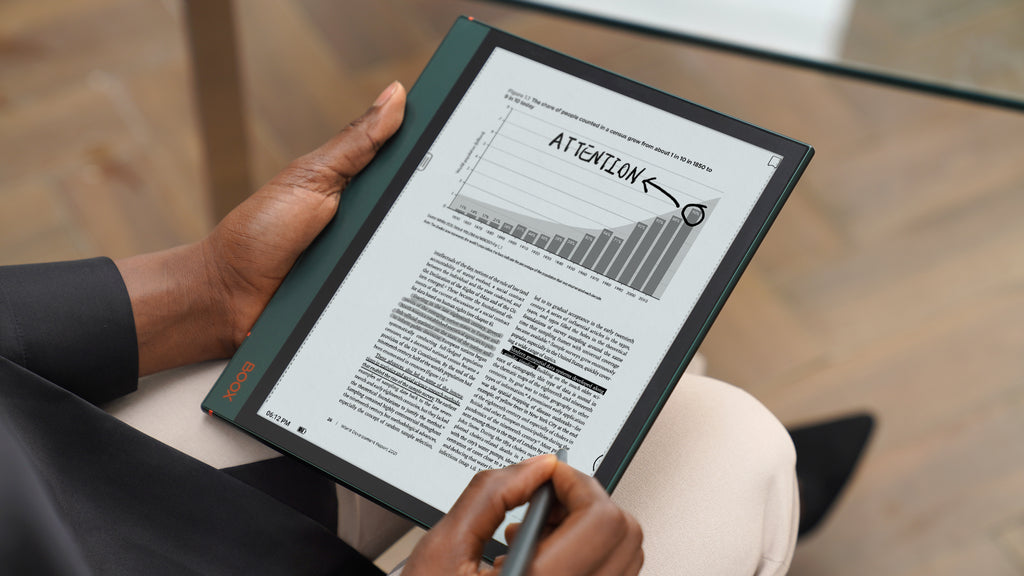 BOOX E Ink devices are highly regarded for their in-book note-taking features. With the powerful and versatile NeoReader, which supports almost all popular ebook formats, users can easily capture and organize their thoughts just like on a real book. Here you will learn how to maximize the benefits of these note-taking tools while reading.
#1 – Scribble in the margin
Most PDFs and other fixed layout documents include a margin area where you can scribble on. For reflowable documents like EPUB and MOBI, NeoReader enables you to adjust the book's margins, making it easier to jot down your thoughts when your muse drops by. As a result, even Fermat would have found it effortless to share his solutions.
NeoReader also offers a range of brush options similar to those found in the built-in Notes app, including pen, brush pen, ballpoint pen, pencil, and marker. You can customize the brushes from a selection of 16 different colors and adjust the line width up to 25 degrees. It is easy to access the handwriting status by simply pressing the Handwriting or the Quick Handwriting icon on the main menu.
#2 – Apply highlights or underlines
In addition to the marker in the brush tool, NeoReader allows you to select specific sentences or paragraphs to highlight or underline what you consider is important. However, it's important to use highlighting sparingly and strategically to avoid overdoing it. A smart reader knows to highlight only key words or phrases that refer to major details.
To apply highlights or underlines in NeoReader, simply hold and drag to select the content you want to mark. You can then share your highlighted or underlined content as a reading card on social media.
#3 – Annotate what interests you
Annotation can significantly improve your memory, comprehension, and overall understanding of what you read. As you annotate, pay attention to the author's main idea and don't forget include your personal reflections on the text. By engaging in annotation, you can enhance your understanding of the paragraphs you are reading.
NeoReader's Annotate function works similarly to inserting a sticky note in your book that pops up when you click on it. Feel free to try this out and add your thoughts to your favorite ebooks using typed text.
#4 – Add links to texts
Links are a powerful tool for adding references to key words and building your personal knowledge network. The advantage of using links is that they can be customized to meet your specific needs and interests.
In NeoReader, you can choose to add an internal link to a page, or an external link to a document or a website. This feature is particularly helpful when reading academic documents or studying your own notes. By incorporating links, you can quickly access additional information and expand your understanding of the topic.
#5 – Embed and export your markups
When you make markups to a PDF file using NeoReader, the changes can be automatically embedded in the original file. This allows you to sync and open the file on another device, complete with all your notes, without any extra steps.
For EPUB, MOBI, and other reflowable documents, you can easily export your markups through the Contents menu in NeoReader. This feature enables you to share your notes across multiple devices or platforms, making it convenient for studying and collaboration on the go.