BOOX Note Air2 Plus: A Study Companion to Empower Your Campus Journey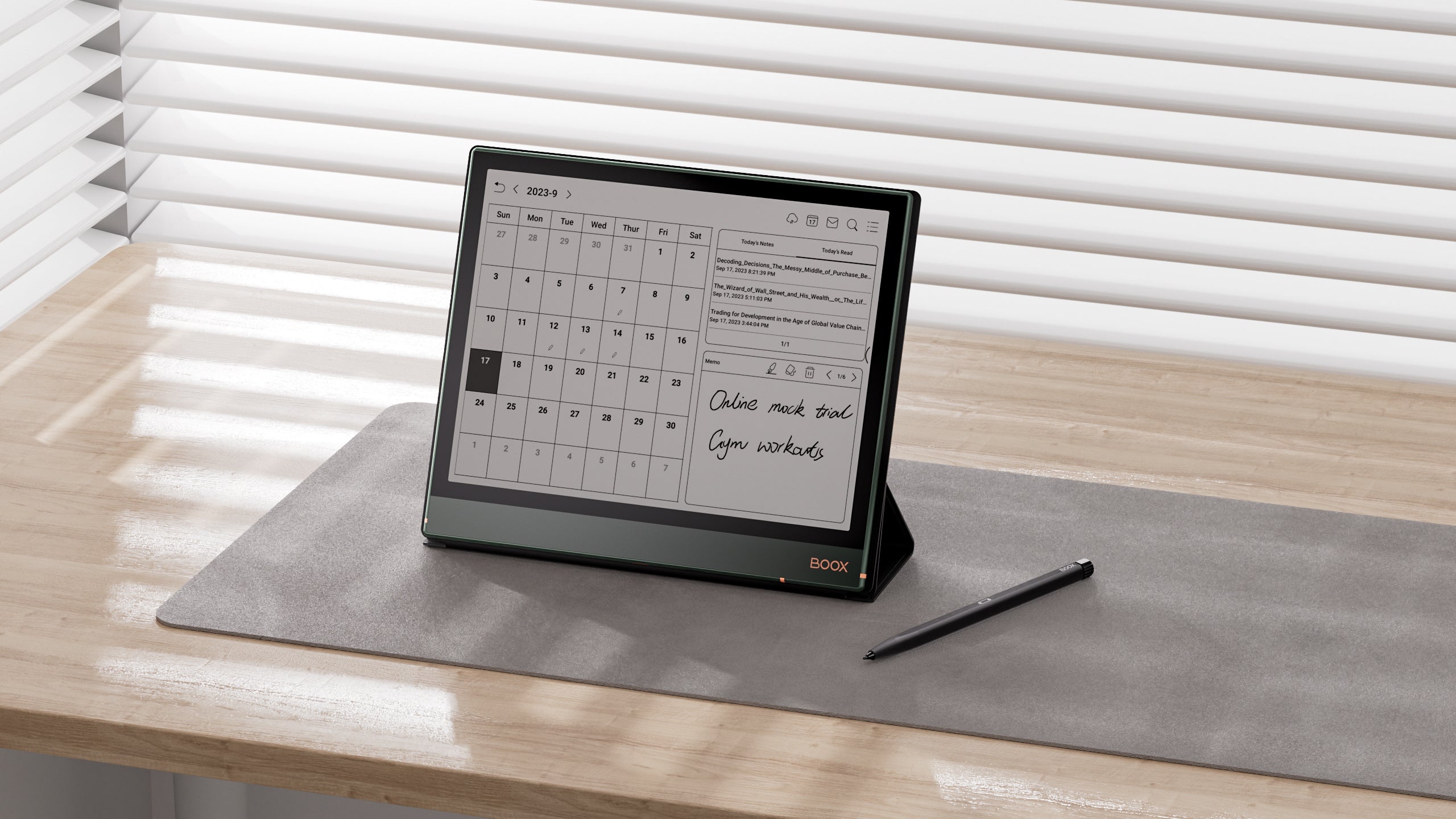 Piles of notebooks, sticky notes on the wall, and various highlighters can be seen in the room of most students. Those stationery are medals for hard work, symbolizing every moment of unwavering focus. However, handwriting on paper eventually fades, and ever-growing stacks of books turn into a nightmare when relocating. Moreover, it's a time-consuming ordeal to locate specific notes, as knowledge is physically scattered across different pages.
With a new semester come fresh academic challenges. As courses become more intricate, and demanding papers loom on the horizon, traditional tools may no longer suffice to meet the diverse needs. BOOX Note Air2 Plus will be an efficiency optimizer to assist you in surmounting all the academic hurdles and living a productive life.
Pre-class: Thoughtful Planning and Effective Preview
Success starts with a solid plan. Morning is the prime time to blueprint a day. Creating a to-do list in "Notes" ensures a well-organized day, making it possible to balance studying, socializing, and rest. For long-term plans, BOOX Note Air2 Plus offers a built-in Calendar Memo in "Apps". This tool allows you to jot down crucial events for the upcoming weeks. In addition, it provides an overview of your notes, memos, and reading records, facilitating quick retrieval of past work.
To keep up with professors during class, it is crucial to have a thorough preview of textbooks and references. Within the "Library", learning materials can be sorted out by discipline through different "bookshelves". With the robust Neoreader, you'll no longer see pencils, clips, or highlighters cluttering your desk or backpack. You can highlight, underline, and annotate content with a wide array of digital tools.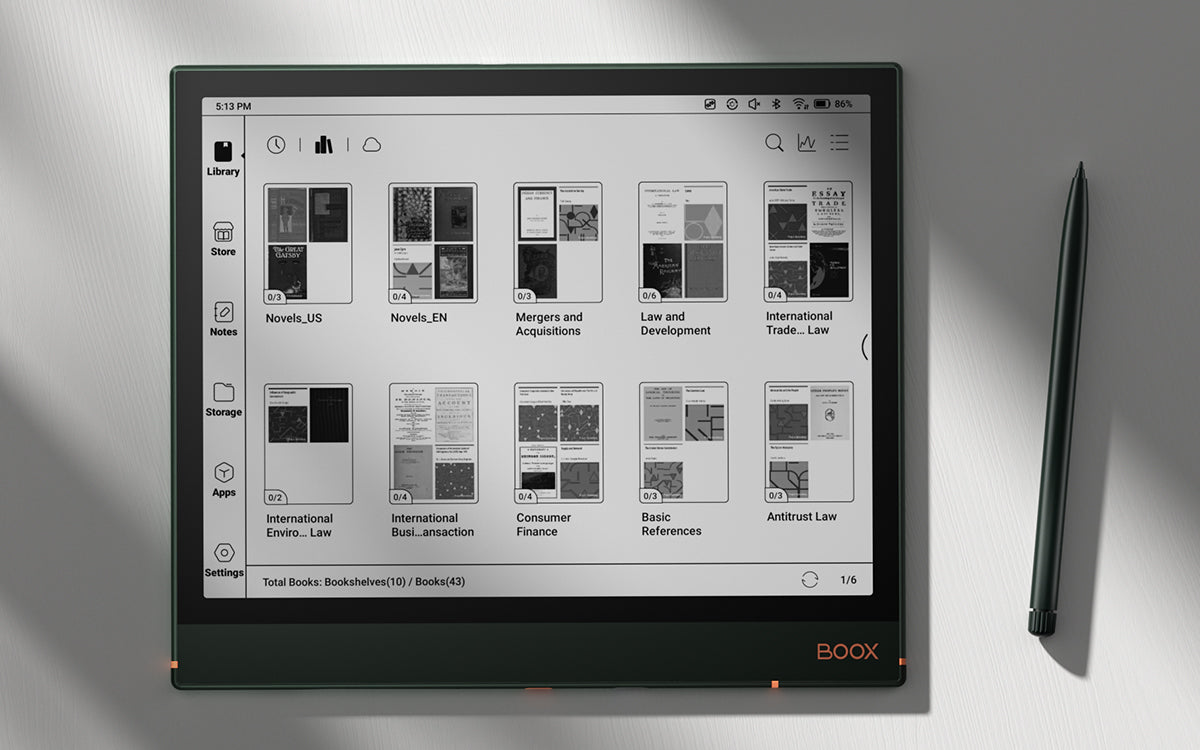 While-class: Lightweight Mobility and Effortless Multitasking
When classes are packed, shuttling between different buildings becomes more tiring with a heavy laptop. BOOX Note Air2 Plus weighs only 445g and boasts a slim body with a thickness of merely 5.8 mm. With a simple snap, you can close the magnetic case and be all ready to head to another classroom.
Bells ringing, the class starts. As the professor is lecturing at the podium, the split-screen function enables you to take notes while referencing the textbook at the same time. For left-handers, the "Swap" function makes it easy to switch the position of notes and books. Moreover, BOOX is acutely aware that PDF files make up most of the readings of student users. That's why the Note Air 2 series holds the highly capable "Reflow" function, in which you can change the text direction and alignment, as well as adjust the spacing and font size as needed.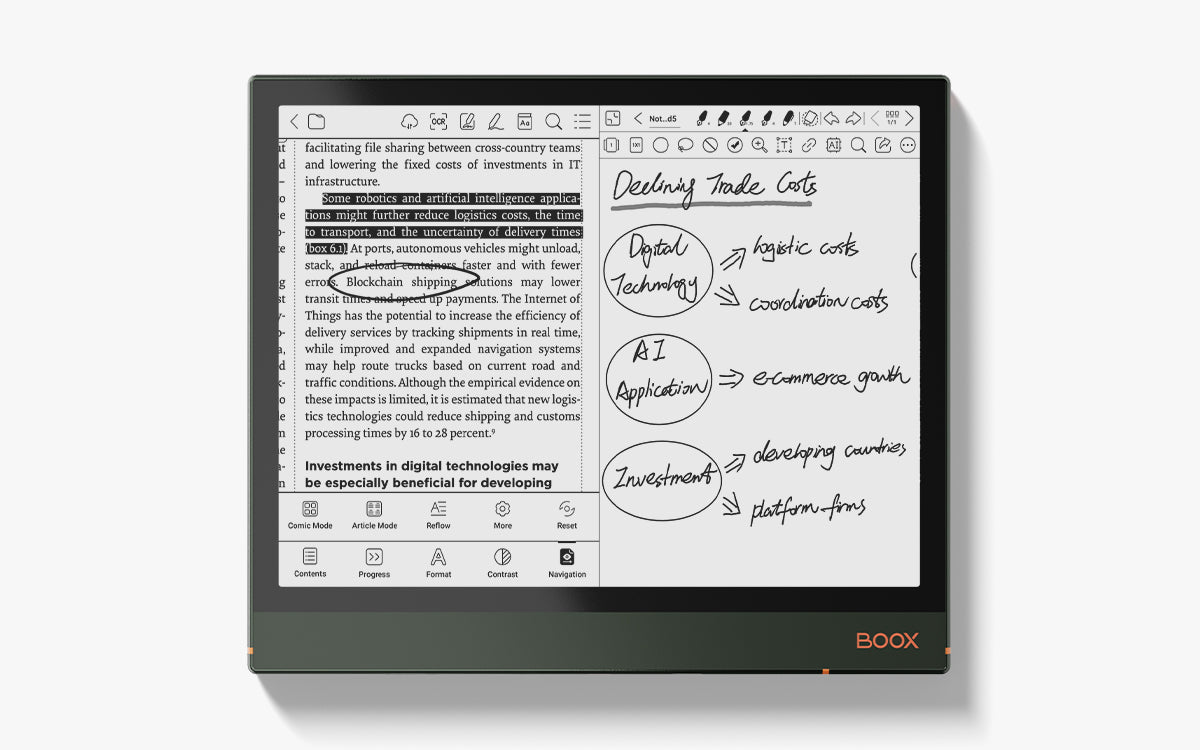 Saying goodbye to notebooks and pens doesn't mean that you have to forgo the joy of writing. Note Air 2 Plus delivers an exceptional writing experience through a paper-like screen and magnetic stylus with 4096-level pressure sensitivity. It can capture the subtle nuances of every stroke, ensuring a vivid presentation of your ideas.
After-class: Smart Knowledge Management and Sharing
The more you review, the deeper your understanding becomes. The best part of using an ePaper device is that you can better manage your notes, connecting concepts and points flexibly. The Note Air 2 Plus provides a practical toolkit, including "Lasso" to change the position and size of content for a neat layout, "Layers" to separate review notes from class sketches, "Insert" to add images or audio for additional information, and so much more.
If you need to share files with classmates for discussion, the AI recognition function can convert handwritten notes into texts. Then you can send the file to your friends via email or any third-party apps you want. Supported by an open Android system, the Note Air 2 Plus links you with all the productivity tools in Google Play as smartphones and laptops do.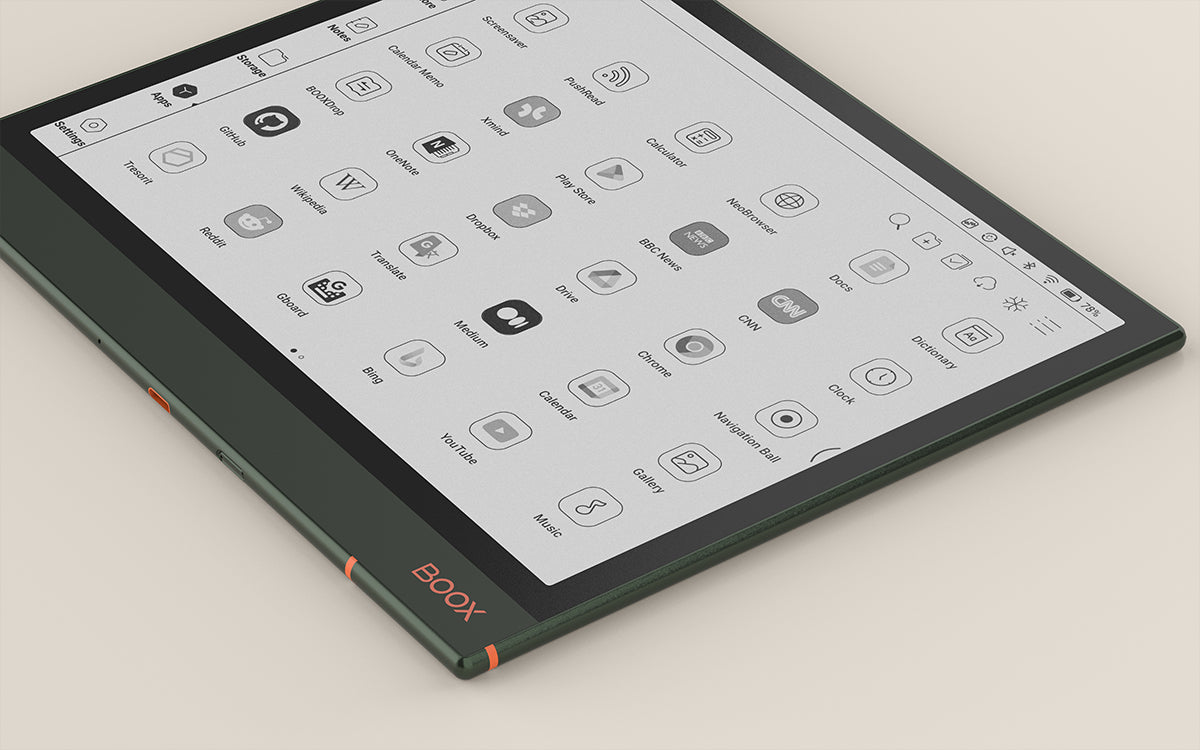 Conclusion
Information is growing exponentially in today's world. Traditional paper books and notebooks may no longer cater to varied requirements. For campus life with a tight schedule, we need to enhance efficiency to harmonize academics, social engagement, and rest. Note Air 2 Plus stands as your versatile study companion all the way from daily planning, note-taking, and reviewing to sharing, keeping you on top of everything.