BOOX Recap 2022: Everything We've Achieved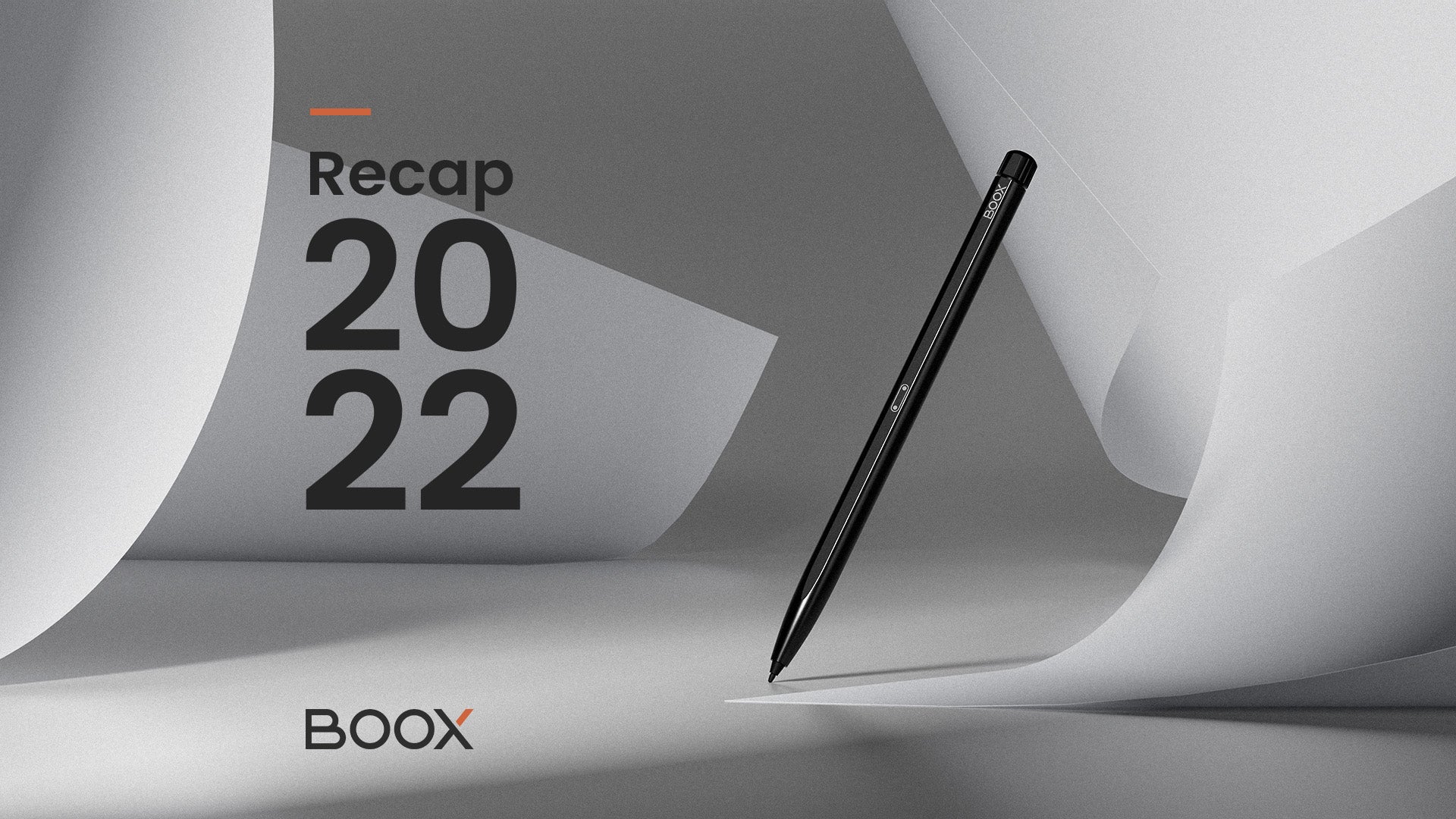 The year 2022 is coming to the end. We are happy to see that most countries have gradually lifted their COVID-19 restrictions and containment measures. BOOX has also made great achievements this year by releasing 6 products with a game-changing product category, ePaper Tablet PCs, and a major firmware update.
New Lineup: Tab Series ePaper Tablet PCs
The Tab Series is our new redefining product line featuring the BOOX Super Refresh Technology to achieve ultra smooth refresh rates compared to typical E Ink devices. The Tab Series devices have a redesigned interface to provide a more tablet-like experience with new multi-finger gestures and a Navigation Bar as an alternative navigating method.
Tab Ultra is a 10.3" model of the Tab Series with the stylish phantom black color. It is equipped with a 16MP rear camera for built-in document scanning and OCR functions as well as compatibility with third-party photo and scan apps. The magnetic 2-in-1 Keyboard Cover is specifically designed for Tab Ultra as an optional accessory to provide extra protection and productivity when used as an external keyboard.
Tab Ultra is our first Tab Series model for the overseas market. Please stay tuned for more surprising new releases in the new year.
Other New Products at a Glance
All BOOX products released in 2022 are preloaded with Android 11 operating system to get better performance and compatibility with third-party apps.
Note Air2 Plus is the bestselling 10.3" E Ink tablet as an upgrade from our popular Note Air2 with a pine green color and a larger 3,700mAh battery. It has an advanced octa-core CPU with an internal storage of 4GB RAM + 64GB ROM. It is a great honor for it to be rated as the "Best e-reader if you're big on taking notes" in the Buy Side from The Wallstreet Journal in 2022 and one of "The Best Tablets to Pair With a Stylus Pen" in RS Recommends by Rolling Stone.
Nova Air C is a 7.8" color E Ink tablet equipped with the state-of-the-art On-Cell Kaleido Plus screen to offer an unprecedented colorful and eye-friendly reading experience. It has an advanced octa-core CPU with an internal storage of 3GB RAM + 32GB ROM. It is the Premium Pick of "The best e-readers in 2022" by Android Police.
Nova Air2 is an upgraded 7.8" E Ink tablet from Nova Air with a new ivory white body. It also has an advanced octa-core CPU with an internal storage of 3GB RAM + 32GB ROM. It is recognized as one of the "34 best gifts for travellers 2022" by GQ Magazine UK.
Leaf2 is the first 7" eReader of BOOX with built-in page-turn buttons in recent years. With 2 different color options and screen design, it has quickly gained its popularity since its first release. What's more, it has a microSD (TF) card slot for storage expansion, in addition to its quad-core CPU and 2GB RAM + 32GB ROM configuration. It is chosen as one of "The Best Tablets, E-Readers, and E-Notes To Give As Gifts" by Gizmodo.
Poke4 Lite is the entry-level 6" eReader available with white or black colors. Its performance is backed by quad-core CPU and 2GB RAM + 16GB ROM storage.
Exciting Updates in Latest Firmware
In 2022, we have released a major firmware update, Firmware V3.3. We aim to provide a brand new experience by redesigning the interface and adding new features, among which are the Reading Data Syncing, Optimized AI Recognition Interface, Innovative Tag System, and many more. You can have a brief look at all the features via here.
That's all for our BOOX Recap 2022. We would like to express our sincere thanks to all BOOX fans that inspire and support us to make great achievements. Hope you have a wonderful holiday and a happy new year 2023.