Introducing Three New Android 11 E Ink Tablets: BOOX Note Air2, Note5 And Max Lumi2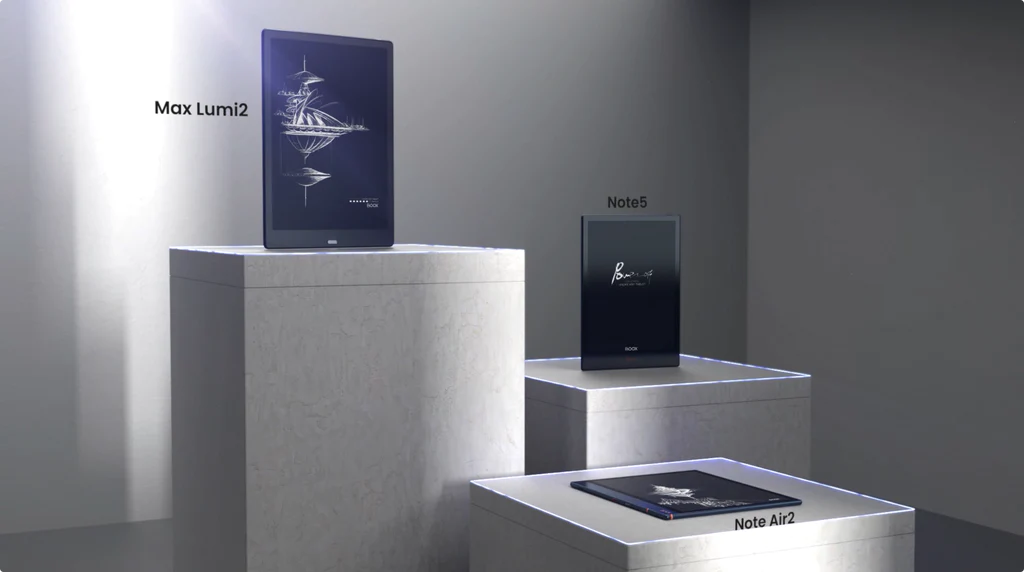 We launched our latest large-sized E Ink tablets: the 10.3'' Note Air2, the 10.3'' Note5 and the 13.3'' Max Lumi2. These tablets come with a new powerful processor, Android 11, and the latest BOOX V3.2 firmware. And new magnetic BOOX styluses are released with the latest products and firmware.
New products are available for pre-order with a set of free accessories on our website.
Note Air2 Gets More Paper-like
As the upgraded version of the popular BOOX Note Air, Note Air2 improves a lot in its writing feel, storage and other hardware specs.
Using the latest screen laminated with an enhanced writing film, Note Air2 can offer more friction for writing. Paired with the new BOOX magnetic styluses, you can feel more like writing on paper when sketching and taking notes on this E Ink tablet. The other two new tablets also get the new writing film on the screen, but Note Air2 offers the most paper-like handwriting feel.
As a slim 10.3'' device featuring 5.8mm thinness, Note Air2 packs the front lights and g-sensor into it to make the device fit into every environment and direction. 
It also gets enhanced storage. Its 4GB memory and 64GB internal storage can store a lot of ebooks and files. And the storage on Note Air2 adopts advanced LPDDR4X and UFS 2.1 solutions, so users can load files fast and securely.
Redesigned Note5 is Slim and Versatile
Unlike the predecessor Note3, BOOX Note5 gets a brand-new design featuring 5.8mm thinness and new colors.
It's still the most powerful 10.3'' E Ink tablet in BOOX products. Note5 features an upgraded processor and 4GB+64GB storage that can be seen in Note Air, but it's also got a durable E Ink screen, dual speakers and fingerprint recognition to offer more using flexibilities.
Max Lumi2 Features New Electronic Ink
Larger than the Note Air and Note5, the 13.3'' Max Lumi2 is the most powerful E Ink tablet for professional reading and heavy note-taking.
Compared to its predecessor Max Lumi, the second generation of BOOX 13.3 doubles the storage to 6GB RAM+128GB ROM. And they feature advanced LPDDR4X and UFS 2.1 solutions, so you can get ample space for their academic essays, notes and reports. 
Max Lumi2 still gets the front lights that users love and need, but it also gets improved writing feel and enhanced screen performance. Using the latest E Ink Carta 1250 ink, Max Lumi2 can display clearer texts with lower latency on its HD screen.
V3.2 Firmware: Icing on the Cake
The new V3.2 firmware mainly improves the user interface, application compatibility, data transfer and account system to make BOOX devices more stable and useful.
The drop-down menu and settings panel is renovated to streamline the settings operations. With the V3.2, BOOX devices are more compatible with OneNote, WPS and Evernote. So users can draw and write on them and feel less latency.
We also develops a new app to offer quick two-way data transfer: the BOOXDrop. Using BOOXDrop, you can send files back and forth between PC and BOOX fast and wirelessly. 
The new account system links notes data with accounts to make BOOX more suitable for sharing: You can only see their notes when login. So you can share a device with your family, colleagues and business partners and keep notes private.
New Magnetic Pen with Eraser
This October, we release two magnetic styluses: BOOX Pen and Pen2 Pro.
The BOOX Pen Plus is the upgraded version of the BOOX Pen. It offers a thicker nib and a better handwriting feel. Featuring the tip of BOOX Pen Plus, BOOX Pen2 Pro adopts a new design with a built-in eraser so that users can erase pen strokes easily.
The two new styluses can pair with the new BOOX tablets, but they can only be attached to the side of Note5 and Note Air2.
Announcement about Free Cloud Storage and Firmware Updates
We also made an announcement about our cloud service and firmware updates.
We're committed to offering 5GB free cloud storage for all new and existing users and promise to provide firmware updates for all models for more than three years.