Introducing the BOOX Tab Ultra C Pro: Sleek, Versatile, and Next-level Excellence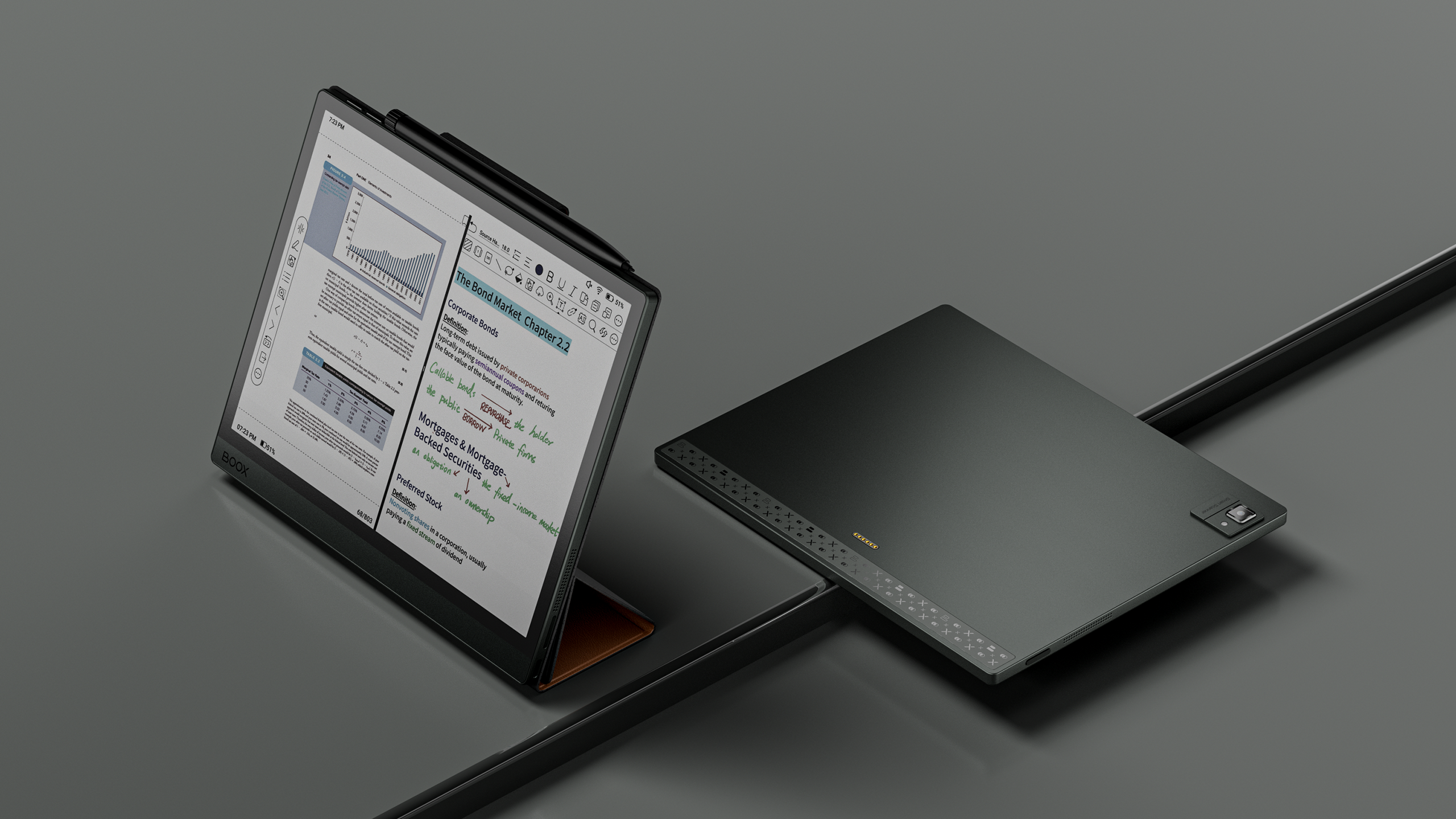 We are thrilled to announce the highly anticipated launch of the BOOX Tab Ultra C Pro, the upgraded version of its predecessor and one of the newest ePaper Tablet PCs in 2023. In this article, we will explore the powerful features that make the Tab Ultra C Pro a versatile workstation, delivering ultra-smooth performance and unmatched productivity.
Sleeker Design, Enhanced Portability
The Tab Ultra C Pro features a sleek and sophisticated uni-body design, crafted from premium aluminum alloy. Its polished finish adds a contemporary charm, making it a true statement piece.

We've made it even more portable with a thinner design of just 6.6mm and a lighter body weighing only 450g. To make sound adjustments easier, we've added two volume keys on the side. Plus, the 16MP camera with LED flash provides extra convenience for precise capture. The camera's metal finish perfectly complements the aluminum gloss of the back casing, creating a cohesive design. With its chic color, the Tab Ultra C Pro effortlessly blends into your personal and professional life, making a stylish statement wherever you go.
Unleash Pro-level Performance and Seamlessness
Just like its predecessor, the Tab Ultra C Pro boasts the 10.3'' HD E Ink Carta 1200 screen, offering a high resolution of 300 PPI for black and white, and an impressive 150 PPI for displaying relaxing colors. Level up to the Pro edition with the cutting-edge Kaleido 3 color screen with our advanced BSR technology, along with the most powerful octa-core chip you'll find in any ePaper product.
We've elevated the BOOX Super Refresh Technology to new heights, delivering an unparalleled ultra-smooth experience. The Tab Ultra C Pro, powered by an advanced 8-core processor, can reach a clock speed of up to 2.8GHz, making it 13% faster than the Tab Ultra C and providing over 5 times faster download speed. It offers the most seamless experience ever encountered on an ePaper tablet. Whether you are working on projects or taking notes, the Tab Ultra C Pro delivers a pro-level performance.
Another crucial enhancement is the expanded memory, now increased from 4GB RAM to 6GB RAM. With the 6GB RAM + 128GB ROM, combined with BSR and a powerful processor, the Tab Ultra C Pro ensures a seamless experience even when multiple apps are open simultaneously.
Elevate Your Writing Experience and Stay Organized
The Tab Ultra C Pro comes preloaded with our latest firmware and exciting features such as Smart Scribe. This game-changing addition changes the way you take notes and annotate books. You can annotate books with handwritten notes and easily turn those scribbles into perfect shapes, highlights, underlines, and effortlessly delete your handwriting. Enjoy a smart and efficient writing experience like never before.
Running on the Android 12 OS, the Tab Ultra C Pro offers flexibility to stay organized and productive. Download a wide range of apps directly from the built-in Google Play Store app. From task management apps to note-taking tools, choosing the ones that best suit your organizational needs.
The Ultimate Color ePaper Tablet PC
Experience the next-level excellence of our ultimate 10.3'' color ePaper tablet PC, seamlessly blending style and functionality. Embrace the thinner design, enhanced controls, and stunning aesthetics that integrate into your lifestyle. Enhance work proficiency and enjoy the versatility of the BOOX Tab Ultra C Pro.
Tab Ultra C Pro is now available in the official BOOX Shop.