Note Air3 C Unwrapped: Your Versatile and Colorful ePaper Notebook with Peak Performance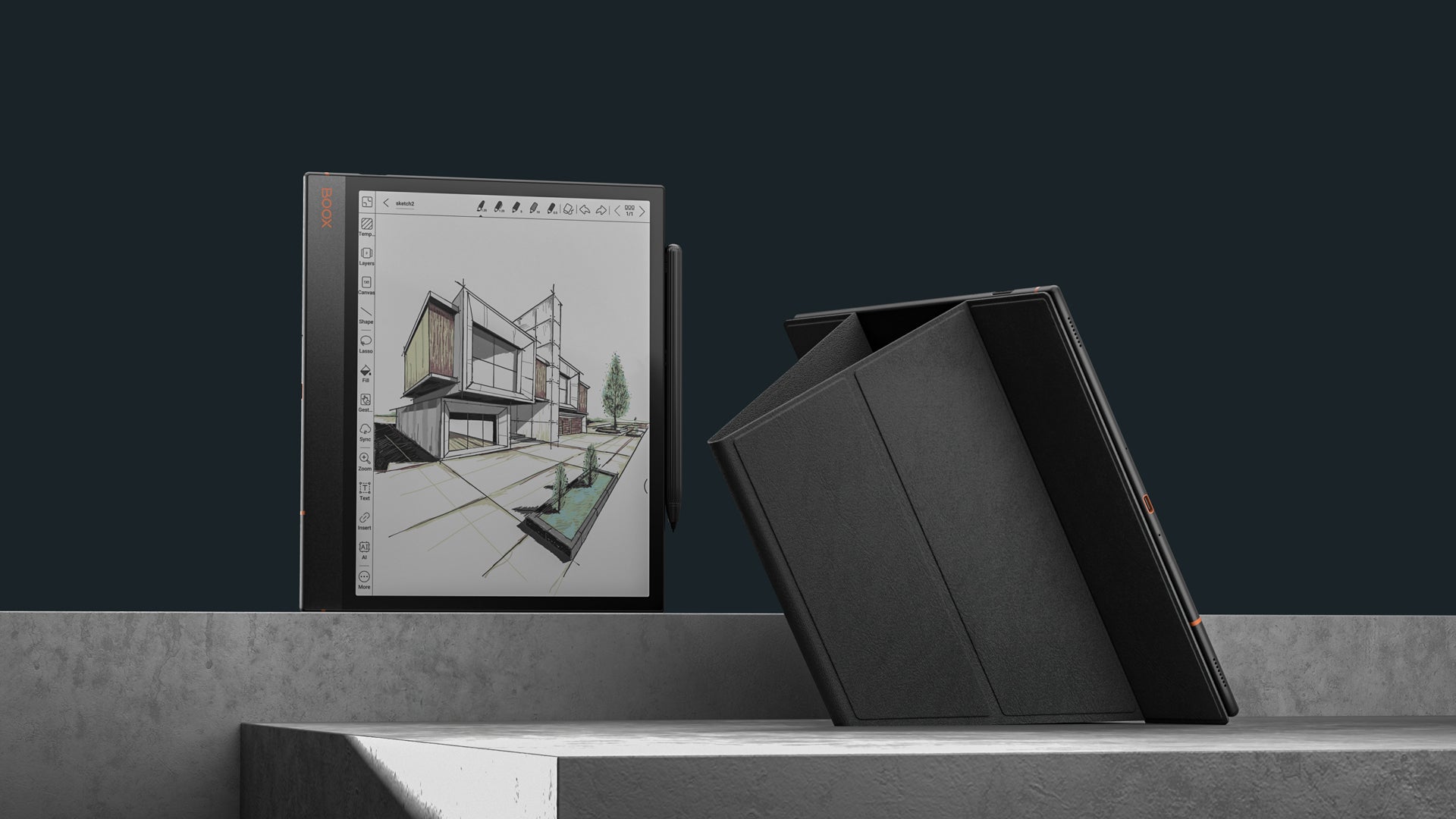 As one of BOOX's most beloved series, the Note Air family is embracing the arrival of a new member—Note Air3 C, a color E Ink tablet. Building upon all the extraordinary functions the Note Air2 series boasts, Note Air3 C creates a colorful world where a raft of new features are added to bring a fresh and exciting experience.
Crafted for You: Colorful Display & Classy Design
The most sparkly part of Note Air3 C is the 10.3" Kaleido 3 glass screen. It presents more saturated colors with 150 PPI and the sharpest black-and-white content with 300 PPI. To display stunning visuals, the glass panel was made thinner. The screen looks more see-through as if images and texts are leaping off the pages.
Outside the screen, a vibrant line gracefully traces the edge of the chic casing. Behind the stylish look is CNC technology and nano molding. This refined manufacturing gives Note Air3 C a premium texture as well as a posh appearance that exudes quality.
To become your everyday companion for reading and writing, Note Air3 C takes ergonomics into consideration and meticulously calculates the best width of borders, which offers a comfortable grip for long-time holding. Additionally, with a 5.8mm thickness, it takes up minimal space and can accompany you all the way from home, subway, to the office or classroom.
BSR Technology: Silky Refresh for Seamless Workflow
Note Air3 C is our first E Ink Tablet equipped with BSR, BOOX Super Refresh technology, which was developed to enhance the refreshing performance and image quality of ePaper products. Underneath the technology is BOOX's advanced hardware design combined with finely tuned software algorithms.
With a thorough analysis of users' needs and various use cases, BOOX introduced BSR to harmonize responsiveness and visual sharpness, offering the optimal response, display, and battery run time. This allows Note Air3 C to tackle more complicated tasks with different refresh modes to give you the best experience.
Thanks to BSR technology, you can open multiple files for reading, annotating, and referencing at once with Split Screen. In addition, it allows you to quickly scroll up and down on websites with minimal lags and ghosting. Aided by robust processing power, you can switch between different third-party apps to execute a multi-stage workflow. Everything will go as smoothly as butter.
Upgraded Reading & Scribbling: Paper-like Coziness and Smart Control
Note Air3 C leads you into a realm of mellow colors. The natural display of 4096 colors brings delight to websites and files of 17 popular formats. Compared with common 10.3' ePaper tablets, it offers a 24% higher resolution for black-and-white content, and its display of colorful material is 50% better than the last iteration Kaleido screen.
Aside from the enhanced reading experience, a series of updates take the note-taking function to the next level. Covering by a handwriting film, Note Air3 C mimics the sensation of a pen tip gliding across the paper. Complemented by our magnetic stylus of 4096 pressure sensitivity, the pen-to-paper writing experience is 100% replicated on this tablet. To cater to various scenarios, we have come up with a new versatile protective case. It has a special folding and magnetic attachment design that enables you to use Note Air3 C both vertically and horizontally at three different angles.
What's more exhilarating is that updated firmware brings Smart Scribe. This feature offers capabilities such as Shape Recognition, Strikethrough Deletion, Highlight Recognition, and Underline Recognition. With just one effortless stroke, you can draw perfect shapes, remove unwanted notes, and neatly underline sentences. Paired with AI handwritten recognition and tag system, you can manage your ideas and knowledge in a smarter way.
Break the Limit: Open System and Incredible Connectivity
BOOX understands that everyone is unique with their own needs and preferences. Thus, we have embraced an open system to put the choice in the hands of you. With Android 12 OS, you can get access to its vibrant ecosystem and download any third-party apps you need for study, work, and entertainment.
With Note Air3 C, in the morning, you can check emails over freshly brewed coffee; during the commute, access to Amazon Kindle, Nook, Kobo Books, and all the other reading apps turns your tedious subway ride into an enjoyable journey; for enhancing work and study efficiency, Note Air3 C is the best place to home productivity apps like TickTick, Xmind, and Notion, providing you with an entirely different state of flow.
Note Air3 C not only breaks the limit in software systems but also connects you with all sorts of hardware devices. Our BOOXDrop app, send2boox website, and Chrome extension enable you to transfer files seamlessly and you can access your notes and annotations on different devices through convenient synchronization. Moreover, the built-in Screencast feature helps present your boldest ideas and rigorous analysis to classmates and coworkers.
The Best ePaper Notebook You Need
Premium colorful visuals, lightning-fast response, and superlative writing experience lay the groundwork for Note Air3 C to stand out as a top-notch ePaper tablet. Beyond these core features, the open Android system, smart connectivity, and diverse features in software and hardware make Note Air3 C the unrivaled choice for anyone seeking a digital notebook.
Note Air3 C is now available in the BOOX Shop. Take yours and make a difference.