BOOX ePaper with Kaleido 3: The Duet of Efficiency and Color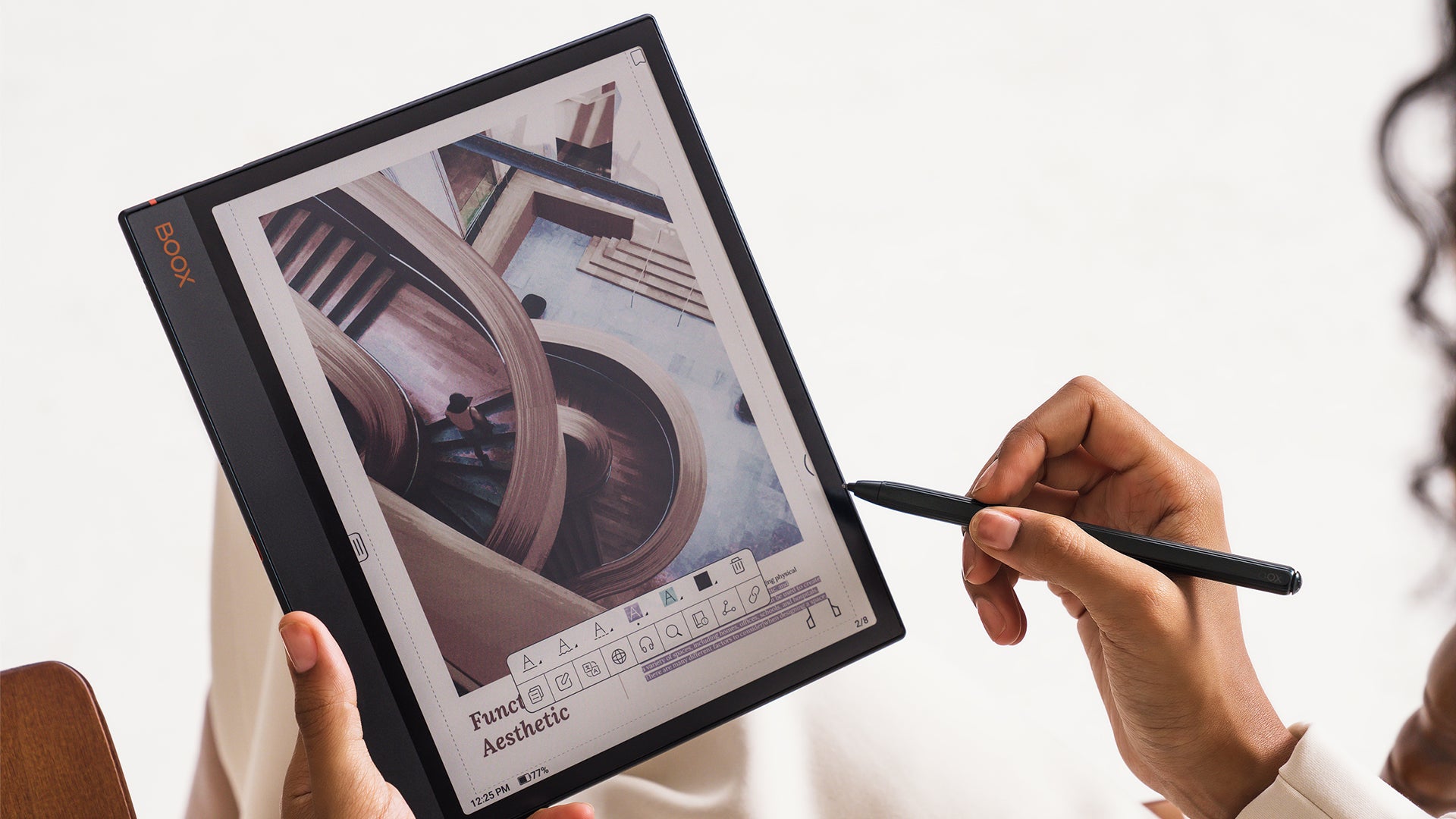 The colors of the illustrations look serene and dreamy on paper, leading us into a realm of fantasy. Such experience can hardly be replicated on LED screens. However, thanks to the advances in ePaper technology, it's now possible for us to relive such wistful reverie in a digital way. And what makes it happen is Kaleido 3.
What is Kaleido 3?
Kaleido 3 is E Ink's latest generation of print color display technology for ePaper products. Compared with conventional black-and-white E INK displays, Kaleido uses an RGB Color Filter Array (CFA) to present colors on the screen. With a color filter on top, red, green, and blue can be mixed or with black and white to create a total of 4,096 colors.
Kaleido 3's Edges Over the Last Generation
E INK has produced three generations of Kaleido modules: Kaleido, Kaleido Plus, and Kaleido 3. As the latest generation, Kaleido 3 fares better in color display quality, eye-health protection, and response time.
1. Enhanced Color Saturation and Resolution
The color saturation of Kaleido 3 was improved by 30% compared to the previous generation. Moreover, Kaleido 3 raised the color display resolution from 100 PPI to 150 PPI. As a result, images are like faded watercolors being retouched, popping, and captivating eyes.
2. Gentle Front Light to Protect Eyes
Along with Kaleido 3 is a new
front light
technology, ComfortGaze. The light is shed evenly onto the screen and then perceived by human eyes just like the ambient light. More importantly, ComfortGaze reduces the Blue Light Ratio (BLR) and Blue Light Toxicity Factor (BLTF) by up to 60% and 24% respectively.
3. Quicker Response Brought by Better Compatibility
Kaleido 3 is compatible with Carta 1200 and Carta 1250 which can bring overall upgrades in response, creating a
smoother experience in handwriting and animation playing
. Furthermore, the display is polished up with a higher contrast ratio. The enhancement derived from Kaleido 3 is holistic. That is why
BOOX
was quick to embrace it once it hit the market.
Benefits Arising from BOOX Teamed Up with Kaleido 3
BOOX has stayed alert to technologies that could bring more possibilities for products. Leveraging the magic of Kaleido 3 on
all our color ePaper devices
, we are able to inject more efficiency and delight into your daily work and study.
1. Enjoy Color Display with Lightning-fast Response
Among the color display technology for ePaper products, Kaleido 3 is the best one to be combined with
devices requiring high refreshing rates
. Compared with ACeP, Kaleido 3 outperforms in displaying dynamic content and exhibits quick responses to frequent taps, swipes, and pinches. And that aligns perfectly with our user's needs. Coupled with
BOOX Super Refresh (BSR)
, a technology to enhance image quality and refresh performance, you can take pleasure in the
smooth handling
of different tasks with pleasing colors.
2. Supercharge Your Reading and Note-taking Efficiency
Following the infusion of colors from Kaleido 3, it's like you own a bundle of digital highlighters. For individuals who engage in extensive reading, they allow you to highlight different types of information with diverse colors and offer quick positioning in review. For people who have regular needs to jot down notes, colored pens make your notes both interesting and well-structured. Moreover, our latest feature,
Smart Scribe
, further improves efficiency, as you can draw perfect shapes, remove unwanted notes, and neatly underline sentences with one effortless stroke.  
3. Ignite Creativity with Pastel Hues
Colors are pivotal in visual compositions, providing a wide spectrum of emotional experiences and giving voices to your ideas. Thanks to Kaleido 3, our products like
Note Air3 C
become more than a digital notepad, but a cradle of your innovative thoughts. Aided by a stylus of 4096 pressure sensitivity, you can scribble down anything popped up in mind with
5 brushes in 16 colors
. To showcase your creativity authentically, the glass panel of Note Air3 C was made thinner to present the details of every stroke. For artists, designers, or anyone who wants to visualize your daring ideas, BOOX products with Kaleido 3 are your best companion.
On a journey to craft top-notch products, BOOX has never ceased its quest. ePaper devices with Kaleido 3 are here for your exploration. Take yours and make a difference.