Introducing the Note Air2 Series with a New Note Air2 Plus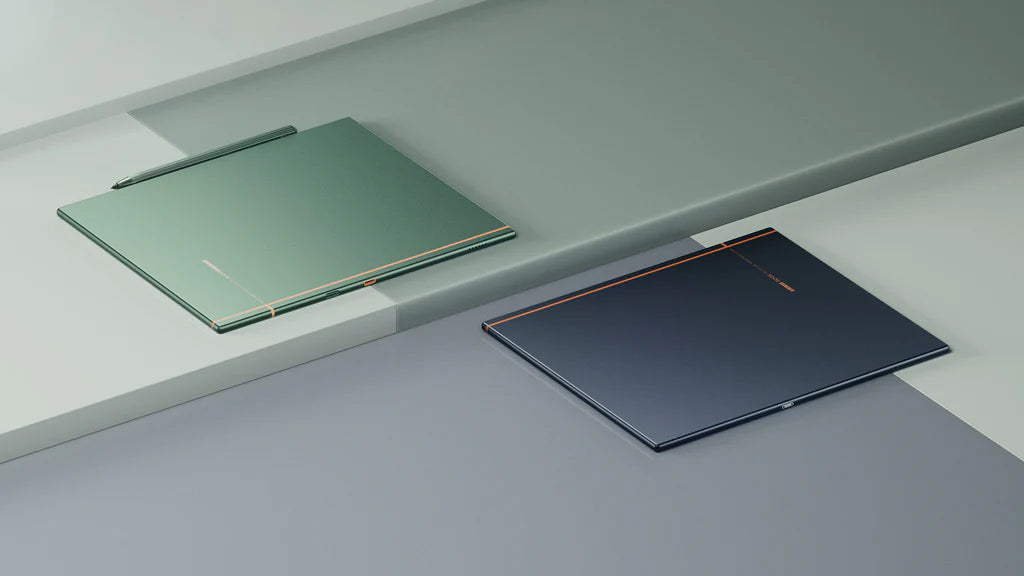 The Note Air2 is one of our best ePaper tablets. It's only 5.8mm thin, has a close-to-paper screen, and is powered by cutting-edge software and firmware. It has now evolved into a series with a more powerful variant, the Note Air2 Plus.
Note Air2 Gets Better in the Plus
To create a strong Note Air2 Plus and Note Air2, several layers and screens are pressed vertically into an Aluminum case. Even with an asymmetric design, the force is evenly distributed among the parts because the body is structured as a whole. As a result, when you hold these two devices, you will notice the smooth Aluminum finish as well as the solid quality provided by the material and structure.
One of the largest enhancements to the Note Air2 Plus is the support for a magnetic protective case. To emphasize the Note Air2 Plus's modern style, the case is made of two parts: fine PU leather in vibrant orange and a fabric spine in Denim blue. 
The magnetic case not only protects the device from scratches but also makes the Note Air2 Plus more convenient. When you finish a task, you can snap the device to the case and carry it with you wherever you go.
The Note Air2 Plus is still 5.8mm thick. But it has a larger battery than other thin ePaper tablets, thanks to a premium construction technique and all-new compatibility. In standby mode, the 3700mAh battery can last for weeks.
Smooth Android 11 System
The Note Air2 Plus and Note Air2 are the most advanced products in our 10.3-inch Note Air tablet line, with Android 11 and the most recent Boox firmware.
From professional workflow to daily tasks, the Note Air2 tablets can handle them all. Because of the Android operating system, the devices are compatible with most working and productivity apps, such as Google Drive, DropBox, Google Docs, and Microsoft Office. They also support three popular note-taking apps, OneNote, Evernote, and WPS, for adequate work and study support.
And with the latest Boox firmware, the Google Play Store runs as smoothly as it has never before on these two devices. You can open it right away and download the apps you want once you get the device—no hassle and all hustle.
Read and Take Notes In the Way You Like
Compatible with 17 digital file formats, Note Air2 series tablets can display work and study files in any form. Whether you need to read PDF, MOBI, EPUB, FB2, or other digital documents, you can open them instantly without any conversion hassle.
Unlike other digital notepads that sacrifice features or cloud services, the Note Air2 Plus and Note Air2 provide an all-around note-taking experience. Various tools, ranging from layers, custom templates, lasso, fixed brushes, and text conversion, assist you in taking effective notes in the office and classes, as well as creating wonderful sketches in everyday life.
And once you've completed your note-taking tasks, you can save them to the cloud and access them from any computer or mobile device. The 5GB of cloud storage provides plenty of space to save your ideas, inspirations, and life insights. And you can get this essential cloud service without a subscription—it's for free, for every user.
Work Smart and Effortlessly
If you need an eye-friendly E Ink tablet for your work, Note Air2 Plus and Note Air2 can offer the best values.
The ample internal memory of 4GB+64GB is made for people who read and take notes a lot. You can store tons of ebooks, pictures, audio, and notes on this 5.8mm thin device. And a better part is that both the internal memory and storage adopt advanced storage solutions (LPDDR4X and UFS2.1) to store and read files quickly.
The gravity sensor is also a great add to Note Air2 Plus and Note Air2. It will detect the direction and rotate the screen automatically. You don't need to adjust the display anymore. Just let it turn in sync with your task. 
And, if you need to continue working late at night or in a dimly lit room, you can adjust the front lights to illuminate the screen at the level you want. The front lights are easy on the eyes. They will increase the contrast of the display and make it easier to see. When you no longer need the lights, you can turn them off at any time.
The Peak of the 10.3'' Paperlike Tablets
Note Air2 Plus and Note Air2 push the limits of what paper-thin ePaper digital tablets can do, delivering incredible performance and unparalleled flexibility.
They're more than just digital notebooks. They help you focus while also providing more flexible features to empower your work and increase productivity.
They're more than just elegant productivity tools. They're both beautiful and versatile. They provide various tools to help you complete your tasks. And they will add new features with regular firmware updates to take your experience to the next level.
With Android 11 OS, the newest Boox firmware, advanced reading and note-taking system, free cloud service, large storage, auto rotation, and front lights, they're designed to make work and life more convenient, effortless, and enjoyable.
Shop yours today to experience an ePaper tablet that makes a difference.