Nova Air C vs. Nova3 Color: BOOX 7.8'' Color E Ink Readers Comparisons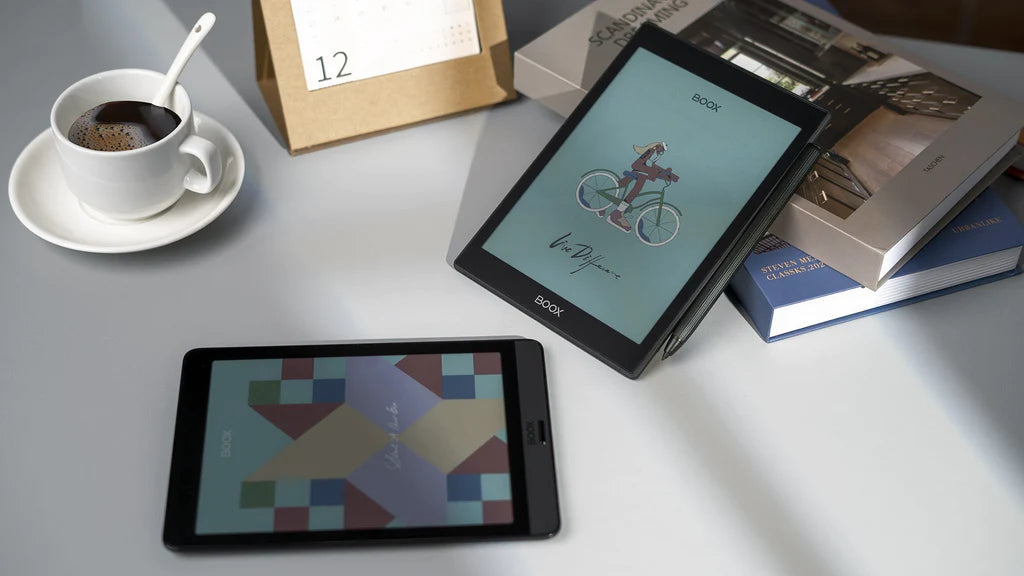 We have released two color eReaders with Kaleido Plus screen, Nova3 Color and Nova Air C. The two devices are of the same size with writing capabilities, so many users wonder about their differences and advantages. 
We'll compare the two products in this article to help you find the color E Ink tablet that suits you best.
Different Screens: Kaleido Plus with On-Cell vs. Kaleido Plus
As mentioned above, both Nova3 Color and Nova Air C use the Kailedo Plus screen, but they get a huge difference.
Nova Air C features the Kaleido Plus with On-Cell Touch technology. It laminates the touch layer on the electronic ink film to make the colors better. So it's better in color contrast and saturation whether the front lights are on or off. When using Nova Air C, you can see richer colors in the books, notes, and webs.
Nova Air C shows richer colors with more details.
Compared to the latest color E Ink tablet, Nova3 Color shows more washed-out colors. But its Kaleido Plus screen with the highest Paperlike Similarity Index is still better than the color eReaders using Kaleido. It can show 4,096 relaxing and soft colors to make your tasks fun and enjoyable.
Nova3 Color's colors are softer with less saturation and contrast.
System and Software Differences
Nova Air C uses Android 11, the most advanced chip in the BOOX products, the latest BOOX firmware, and a closer-to-paper screen. It offers the most powerful color E Ink experience to date. With Nova Air C, you can open a sizeable colorful ebook in seconds, take notes with 16 vivid colors, and install the apps in need for work, study and leisure.
Read colorful books with Nova Air C.
Although Nova3 Color doesn't have Android 11, its Android 10 is flexible and powerful. Combing an industry-leading processor and the latest firmware, you can get the most out of a color eReader. 
Magnetic Accessories, Front lights and Design
Speaking of magnetic accessories, front lights and design, BOOX Nova Air C and Nova3 Color are different.
Nova Air C supports magnetic accessories. It's compatible with the magnetic BOOX Pen Plus and two magnetic protective cases with page-turning buttons. With warm and cold front lights, Nova Air C can fit into more environments and tasks. And its flat-edge design and 6.3mm thinness make it a more portable and modern color eReader.
Nova Air C is compatible with the magnetic stylus BOOX Pen Plus and magnetic protective cases.
In these aspects, Nova3 Color is more traditional. It isn't compatible with magnetic accessories. And it only offers front lights in a cold tone. But the classic round-edge design makes it feel good when holding it at hand.
Nova3 Color's design is more traditional with round edges.
The differences between Nova Air C and Nova3 Color.
Both Nova3 Color and Nova Air C are excellent color E Ink tablets. 
Thanks to the On-Cell touch technology, Nova Air C is more color paperlike and renders better color contrast and saturation. Besides, it's also superior in system and hardware. And it gets a modern design, dual-tone front lights and magnetic accessories. If you're looking for the best color digital tablet and notepad in the market, you cannot miss out on the Nova Air C.
Nova3 Color features a Kaleido Plus screen showing three times better colors than the previous Kaleido. It also comes with Android 10, a powerful chip and the latest BOOX firmware. If you love the fun that color screens offer and have a limited budget for this product, the $20 off Nova3 Color is a good option.