Innovation at its Finest: Making Note Air3 C a Slim, Fast, and Paperlike Color ePaper Notepad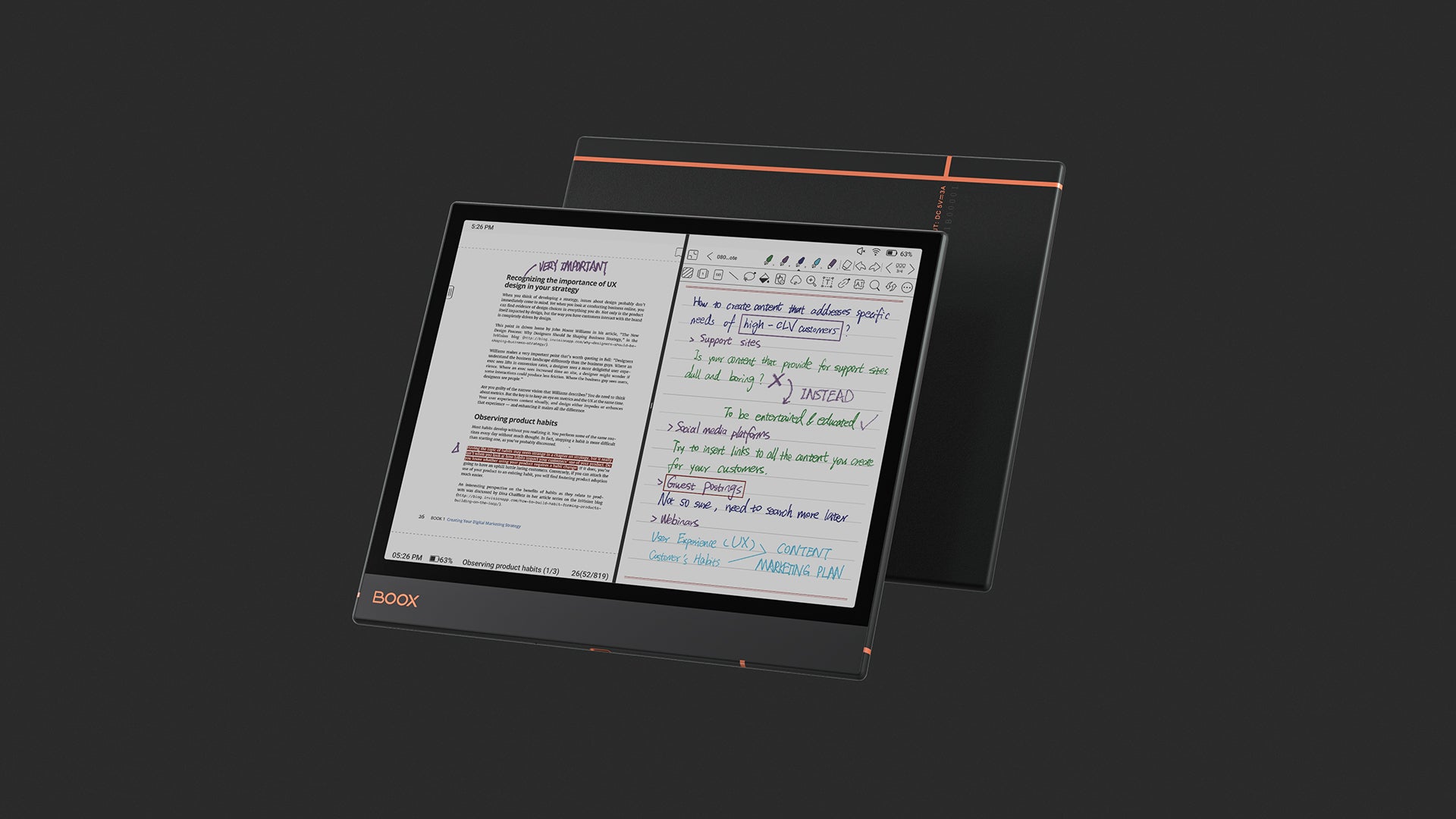 The BOOX Note Air series was designed to provide a paper-thin, paperlike experience with adaptability and ergonomic comfort. The Note Air3 C is the latest innovation in this series, featuring a 10.3'' HD color ePaper screen and BSR technology. Notably, the Note Air3 C is our first E Ink tablet to incorporate the BSR Technology, which was previously exclusive to the Tab series. This 5.8mm color ePaper tablet offers pastel colors, incredible smoothness, and an unmatched paper-like feel.

Enhancing the E Ink Experience with User-Oriented Innovation
At BOOX, user satisfaction is our top priority. We highly value the feedback from our community and actively encourage our users to continue engaging with us, as their input drives us towards new accomplishments. We understand the desire for improved color saturation, and a faster, smoother E Ink experience.
While achieving both of these aspects in the E Ink market presents a challenge, BOOX has embraced this challenge. Our journey began with the Nova3 Color boasts a Kaleido screen. This is our initial attempt at creating color E Ink tablets. Followed by the Nova Air C features Kaleido Plus, and now, the Note Air3 C with Kaleido 3 screen. We have continuously improved color saturation and fidelity to provide a better visual experience. This improvement allows users to enjoy a wider range of content. However, reducing latency further is still the voice of many users. Therefore, we didn't settle there and sought to further improve the color E Ink smoothness.
Our Research & Development team has dedicated countless hours in developing BOOX Super Refresh Technology (BSR). We have successfully combined it with the Kaleido 3 screen in the Tab Ultra C for the first time, resulting in enhanced image quality and refresh performance for color ePaper tablet. Recognizing the immense value of this breakthrough, we have decided to incorporate this latest innovation into the Note Air3 C. This integration not only makes the device paperlike but also delivers pleasing colors and smoothness, unlocking the finest color E Ink experience possible.

Maintaining the Classic Air-thin Design to the Note Air3 C
The Note Air line has gained acclaim for its sleek, paper-thin design, large 10.3'' screen, and comfortable wide grip. Our users from the Note Air series have expressed their satisfaction with the thinness and paperlike writing experience, eagerly anticipating the release of a new model.
While we understand the desire for a larger battery capacity to extend usage time, we also recognize the importance of maintaining a slim and lightweight tablet that offers portability and a comfortable hold. It's a delicate balance, as increasing the battery size would result in a thicker device. Therefore, in order to preserve the slim profile and ensure a comfortable grip, we made a deliberate decision to retain the same battery capacity as the Note Air2 Plus.
With a thickness of just 5.8mm, the Note Air3 C remains ergonomically comfortable without sacrificing performance. We believe that a thin, smooth and color E Ink tablet can cater to a diverse range of needs.

Smoother Experience. Better Performance
We have meticulously crafted the Note Air3 C to seamlessly blend the exceptional qualities of the Note Air series with innovative solutions for soothing color hues, enhanced performance and minimized lags. With the latest Kaleido 3 screen, BSR technology, and a 10.3'' close-to-paper large display, the NA3C elevates your color E Ink experience.
For example, using the Note Air3 C for digital note-taking in a business meeting or lectures. With its paperlike writing experience and BSR technology, you can effortlessly jot down important points and ideas, while the color ePaper display allows you to highlight and organize information with ease. Its thinness and portability ensure you can capture thoughts wherever you are.
In addition, the Note Air3 C is a valuable tool that caters to various tasks. Students can use the Note Air3 C for studying, annotating textbooks, and organizing coursework, while professionals can utilize it for planning, brainstorming, and creative work. With its smooth and responsive performance, thanks to BSR technology, you can effortlessly switch between different applications, making it perfect for those who need to juggle multiple projects simultaneously. Whether you're browsing the web, editing documents, or multitasking, the Note Air3 C guarantees a lag-free and enjoyable experience.
The Best BOOX Color ePaper Notepad
The Note Air3 C is a testament to our commitment to innovation and user satisfaction. By integrating BSR technology and an HD color ePaper screen, we have created a slim device that offers smooth performance with soothing colors and enhanced performance. With its versatility and sleek design, the Note Air3 C become the top-notch ePaper notebook for professionals and students alike.