BOOX Tab Ultra Recognized as Winner of iF Design Award 2023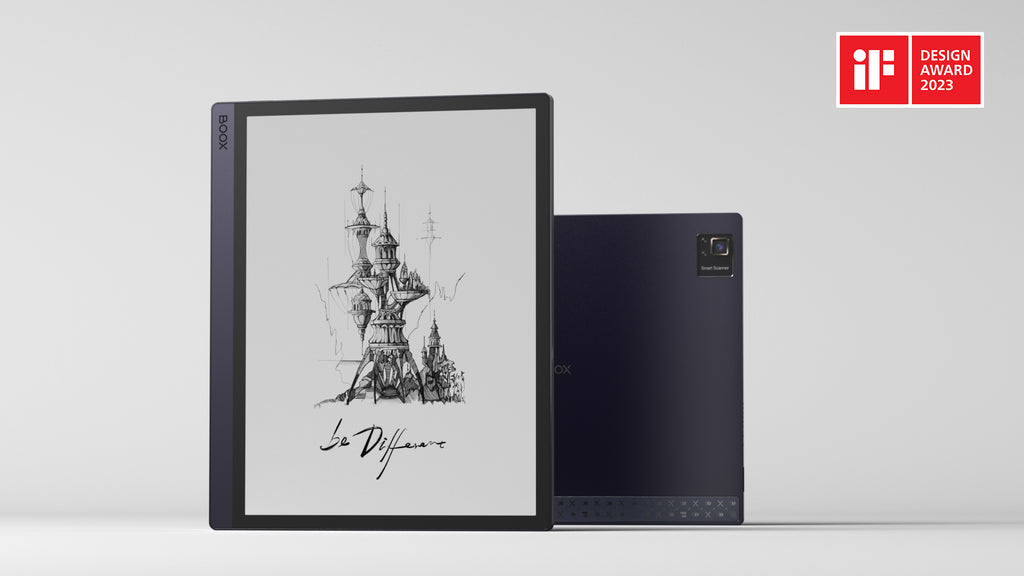 We are excited to share that the BOOX Tab Ultra has been honored as the recipient of the prestigious iF Design Award 2023, a globally recognized design accolade. After impressing the 133-member jury, comprising of independent experts from around the world, the Tab Ultra stood out among nearly 11,000 entries from 56 countries vying for this esteemed recognition. Here you will discover more about the distinguishing characteristics that captured the jury's admiration and secured this esteemed award for the Tab Ultra.
Design Idea
E Ink displays are particularly popular because they resemble printed paper. They are more comfortable on the eyes than other display types, offer excellent readability, and have a long battery life. Traditional E Ink devices such as ereaders have a comparatively slow refresh rate, so they are only suitable for reading books. As a result, we aim to design a productivity tool for our users to work with besides reading. With our great technical breakthroughs on refresh rates of the E Ink screen, we want it to be a great hit not only in the E Ink device market but also in the whole consumer electronics market.
Form Factor
Tab Ultra has a robust and compact body made from aluminum alloy with a stylish phantom black color, which can project various hues from different angles. Surrounded by a slim bezel, the 10.3" E Ink display has a similar size and aspect ratio as the A5 paper to offer a comfortable view and avoid eye fatigue when you are staring at it for a long time. The anti-fingerprint coating on the back keeps it clean and neat all the time. The magnetic 2-in-1 Keyboard Cover is an optional accessory to provide extra protection and productivity for mobile working when used as an external keyboard connected via pogo pins on the side of the device.
Usability and Efficiency
Tab Ultra is a versatile device for reading, note-taking, and multitasking. With the built-in NeoReader app, it is compatible with all popular formats of ebooks and documents, with either direct in-book note-taking capabilities or independent notepads using the included premium stylus with an eraser function on the back. With 4,096 levels of pressure sensitivity, the line width of the stroke will be reflected by pressing lightly or hard with the stylus. Thanks to the open Android system, it allows you to install any third-party app that makes your workflow extra efficient, including reading apps, note-taking platforms, and productivity tools.
Innovation and Differentiation
Tab Ultra features the BOOX exclusive Super Refresh Technology to provide an ultra smooth refresh experience on the E Ink display. With four refresh modes ranging from HD Mode to Ultrafast Mode, it helps you better enjoy reading, browsing, and using apps on a close-to-paper screen. The 16MP rear camera is a powerful tool for built-in document scanning and OCR functions as well as compatibility with third-party photo and scan apps. Inspired by the design of the pencil eraser, the magnetic stylus can be attached to the side of the device with an eraser function on the back to easily erase notes by pressing the button against the screen.
Environmental Impact
Over the last five years, 130 million ereaders have been used worldwide to replace paper books. Paper books emit more than 100,000 times more CO2 than ebooks, and it is estimated that ebook readers helped to reduce CO2 emissions significantly during this time period. As an ePaper tablet, Tab Ultra displays a paper-like display and gives ePaper more digital power. With the versatile features for reading, note-taking, and multitasking, it encourages people to use less real paper in order to protect the environment. Moreover, using a rechargeable Li-ion battery can also have an environmental impact to reduce the carbon footprint.