How Can A Color E Ink Tablet Make Your Work and Study More Joyful?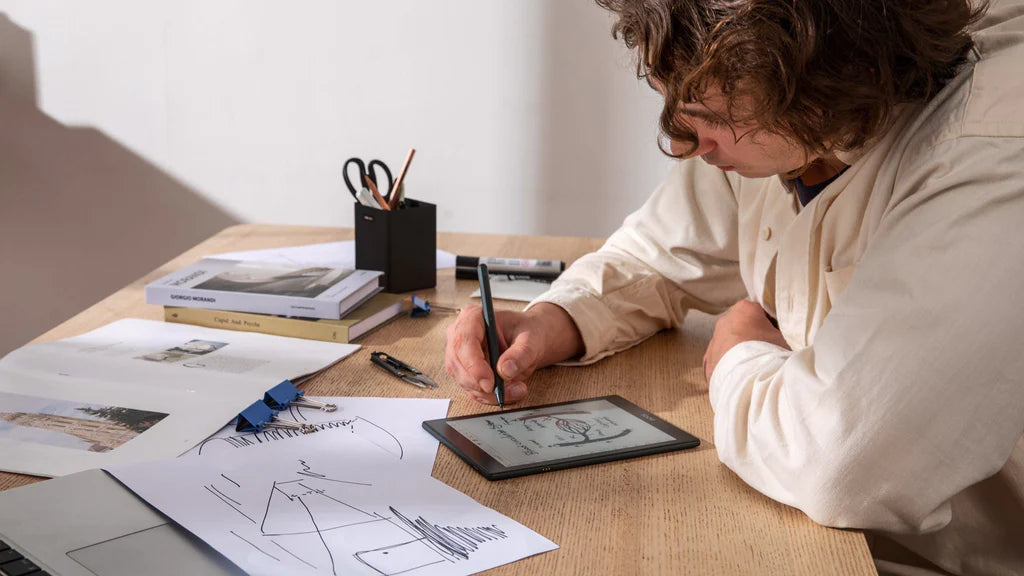 If you're wondering if the latest color 7.8'' eReader Nova Air C is suitable for you, you can ask yourself how important is color in your knowledge consumption and workflow. If colorful images, graphs and texts can help you better understand the content, stay focused on the task, and enhance your passion in some difficult works, and you're not looking for a retina-level display, then a color E Ink tablet is a good option. 
And the best part? It feels way more comfortable on your eyes. And work and study become more joyful with this colorful digital tablet.
See Details in Lovely Colors
Nova Air C kindles the passion for work and study with its close-to-paper color screen. Compared to the previous screen, the latest Kaleido Plus screen with On-Cell Touch technology can display better contrast and saturation with front lights on and off. So when you get a Nova Air C, you will have a feel of color newspaper with a smoother texture. The colors are not as vivid as LED's, but they're way more comfortable to see. 
Enjoy the colorful graphs in Nova Air C.
With the color E Ink screen, you can enjoy the colorful designs of charts, see the highlighted numbers in red, take notes in colors to mark the key points, and easily tell apart different documents in a folder by their cover colors. All the conveniences seem trivial, but they facilitate your workflow and help you manage your tasks quicker.
Snap and Go—Convenient Magnetic Accessories
A color E Ink tablet only contributes to half of your optimized workflow if it only gets a better color screen. Nova Air C brings you more than that.

With the magnetic stylus BOOX Pen Plus, you can snap the pen to the device without worrying it drop off. And use it to take down ideas with colorful brushes anytime.
Snap the pen to the side of the device.
And the magnetic protective case makes everything easier. Attaching the device to the case, you can bring Nova Air C outside and protect it from scratches. And when you stop by a café, you can open the case, press the page-turning buttons, and read books comfortably.
The page-turning buttons help you read effortlessly.
View Effortlessly in Warm or Cold Lights
Most color E Ink tablets in the market only get cold lights. If that's the reason hindering you get a color eReader, you can rest assured with Nova Air C.
It comes with adjustable warm and cold lights. You can turn on the warm lights at night to make reading cozy. The warm lights can also better prepare you for a sweet sleep.
But on a cloudy day or a dim afternoon, the refreshing cold lights show their value in your work. By turning on the cold lights, you can better focus on your task, achieving your daily goals with passion.
Turn on the warm front lights at night.
The dual-tone front lights combing the improved colors can be a double enjoyment for work and study.
Tired of staring at the screen even if it's colored and eye-friendly? The dual speakers in Nova Air C can help you relax with audio.
Listen to audio books with built-in speakers or Bluetooth devices.
This color E Ink tablet packs two quality speakers to provide quality streaming. You can turn on the Text-to-Speech in the built-in reader or a random audiobook app and start listening to your favorite stories.
Better Experience with a Color E Ink
A color eReaders makes tasks fun and enjoyable. And an eReader with ultimate flexibility and powerful features can benefit you more.
The Nova Air C is based on Android 11, so you can install the apps you like. You can see the fantastic book covers in Kindle, flairs in various colors in Reddit, highlighted sentences in Google Docs, and the pictures in New York Times. You can use third-party apps and enjoy the fun that colors offer.
Read Google News on Nova AIr C.
Combining the advanced color screen, convenient magnetic accessories, dual-tone front lights, and dual speakers, the Nova Air C is the color E Ink tablet that can make you work and study more joyful. 
It's the right mix of fun and feasibility.