The Making of Tab Ultra – Chapter 1: The Most Refined Industrial Design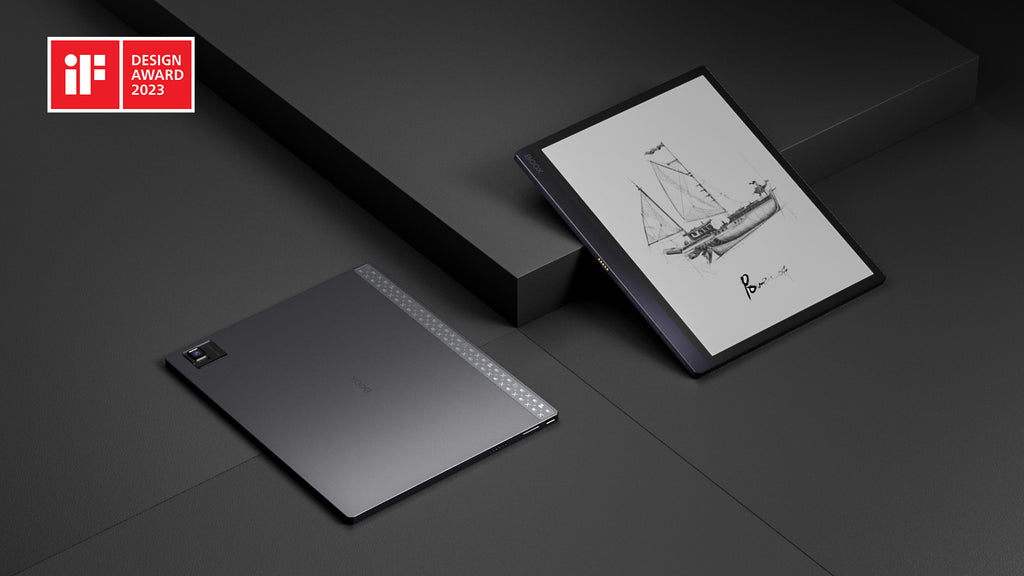 The BOOX Tab Ultra has become a groundbreaking product which gained in popularity since its initial release. It has received prestigious recognition, such as the iF Design Award 2023, and has been endorsed as a recommended product by Digital Trends. Here we will show you the design process behind the product that has made a significant impact on the ePaper market.
Appearance
The development of its industrial design commenced back in early 2022, driven by our vision to craft a modern tablet that goes beyond the boundaries of a traditional eReader, and to create an exceptional user experience that maximizes productivity.
The Tab Ultra boasts a robust and compact aluminum alloy body, exuding an air of sophistication in its sleek phantom black color. This color exhibits captivating hues that dynamically shift when observed from different angles, as we put a lot of efforts to test numerous samples of the color scheme before attaining the desired effect. Thankfully, we have received positive feedback from our valued end-users, affirming our dedication to delivering a visually stunning and gratifying device.
We also took measures to ensure that the shell of our product does not attract fingerprints by applying a fingerprint resistant coating. A unique logo strip was also designed on the back of the device by our graphic designers, featuring icons inspired by the letters of our brand name – BOOX. It not only adds a touch of luxury to the device but also enhances its overall aesthetic when it is being carried around.
Screen Technology
E Ink displays are widely favored due to their resemblance to printed paper. They offer more comfort on the eyes, superior readability, and long battery life compared to other types of displays. While traditional E Ink devices like eReaders have a slower refresh rate, limiting them to ebook reading only, our objective was to design a versatile tool that boosts productivity for users beyond reading.
With a slim bezel surrounding the 10.3" E Ink display, the size and aspect ratio of the Tab Ultra closely resemble A5 paper, providing a comfortable view and minimizing eye fatigue during extended use. The 10.3" display is a popular size in international markets, where it has a perfect balance between portability and functionality, so we decided to incorporate the latest 10.3" ePaper screen technology available at the time to give it a sense of a premium flagship product.
In addition, aluminosilicate glass was employed to improve screen transparency, resulting in a 30% increase in light transmission. We also reduced the thickness of the touch layer by half, bringing the content closer to the screen. This narrows the gap between the glass screen and the content, so that users can get a clearer view and a more responsive touch control.
Hardware
The Tab Ultra is our first product with a 16MP rear camera, which facilitates built-in document scanning and OCR functionality. We believe the camera is essential for a modern tablet. It is incredibly convenient to scan documents on the go and convert them into typed text. It is also compatible with third-party photo and scanning apps, which allows for advanced features such as live text recognition and live translate.
We also included a microSD card slot in a product specifically for the international market for the first time, as per the requests of many users. Expandable storage is a lifesaver for people dealing with a large number of documents offline, and transferring files from another device via a microSD card is just a snap.
Other features such as the fingerprint sensor on the power button are a plus to protect the privacy of our users and provide a convenient way to unlock the screen and resume work easily.